Social Media Spotlight: StumbleUpon
Published May 20, 2009 11:00 am by LoSasso
Categories: LoSasso news, Social media, Web and UX trends
StumbleUpon is a content and website discovery service that helps users to find interesting and obscure content. Users can use StumbleUpon to come across websites, blogs, videos, photos, etc on the web.
To starting Stumbling, users simply download the StumbleUpon toolbar and register their account based on their personal interests. Users can choose from nearly 500 topics, so each Stumble produces relevant content tailored to each user.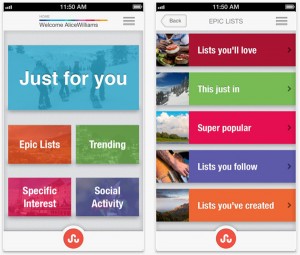 What's great about StumbleUpon is that it is entirely based on collaborative opinions. When a user stumbles, they come across pages that friends and like-minded stumblers have recommended based on corresponding preferences.
The way it works is pretty simple. When users register for StumbleUpon, they download the StumbleUpon toolbar to their browser. The toolbar has several options for Stumbling:
By clicking the "Stumble!" tab, StumbleUpon will automatically direct users to a site based on the interests they selected when they signed up.
By clicking the "I Like it!" tab, users indicate to StumbleUpon that they like the site. If they reached the site independently of StumbleUpon, it will add the site to the StumbleUpon directory. If they reached the site through StumbleUpon, it will be added to their personal favorites.
By clicking the "Thumbs Down" tab, StumbleUpon will give you three options: "not-for-me," "Stumbled this before," "Too much like this lately." This way, StumbleUpon can more accurately categorize a user's dislike for a site.
By clicking the "Send to" tab, users can send the site to themselves or their friends.
By clicking the "Review" tab, users will be directed to a review site set up for the site they wish to review.
"StumbleUpon delivers increasingly relevant content as the Toolbar learns what the user has liked in the past and continues to present quality websites in the future."
Basically the more you Stumble, the more likely you are to enjoy the sites StumbleUpon picks for you. So on your mark, get set, Stumble!