Two dimensional QR codes have been alive and abroad for several years and yet, the U.S. hasn't quite taken to them.  Customers and users still aren't sure what to do with them or why they're on packages and posters. The early adopters didn't spread as quickly as other technologies that were more tangible.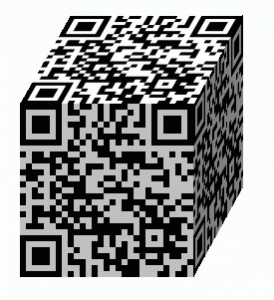 Marketers must educate the public about using the QR codes, why they are useful and why they are integral to our mobile world. Perhaps they've been marketed wrong or not at all - there certainly was no debut like the unveiling of the iPad2 so the codes have largely fallen under the radar. B2B Magazine found that "1% of U.S. mobile phone owners and 5% of smartphone owners had used a 2D barcode scanner in the previous three months" (B2B 3.14.11, p.11).
The importance of the QR code is its ability to act as a bridge between our physical and printed world to the virtual world. The 2D codes offer a direct line to further information for consumers. Post™ Cereals, Macy's and art museums now sport the codes as another way to attract their audience to the continued conversation (discounts, events, consumer appreciation, surveys, give-aways, contests) and further strengthen the feedback loop. The inherent risks of the technology are broken links, codes that aren't compatible with users' mobile devices and thus loss of interest. Given time to develop and greater accessibility this could be the new technology with which the U.S. finally gets on board.