Privacy Concerns: Marketing Challenge 2012
Published February 20, 2012 3:05 pm by Julia Parisot
Categories: Analytics and performance optimization, Marketing research, Web and UX trends
Privacy concerns will continue to be a key challenge for marketers this year.
The question of how much data is being collected regarding consumers' website usage and how that is shared will continue to become increasingly important in 2012.
A 2011 survey from Harris Interactive indicated that the biggest privacy concern for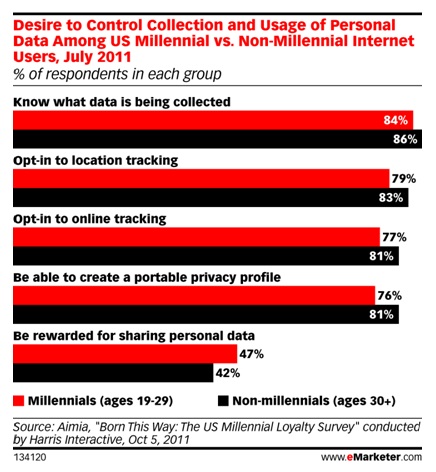 consumers is knowing the type of data marketers collect from them. The importance of this fluctuates slightly depending the consumer's age (30-plus versus younger than 30) but it confirms the need for marketers to take this into consideration when planning future activities.
The vast majority of consumers simply want to know what data businesses are collecting from them: Having control and knowledge of this is essential for at least half of respondents. The Harris Interactive survey shows us, however, that Internet users regularly contradict themselves about privacy concerns. On one hand, they are concerned about data collection activities, but on the other hand, they also understand that they are primarily responsible for protecting themselves by establishing the proper privacy settings.
Interestingly, "only" 59 percent of Internet users say government should be responsible for protecting their privacy.
The business and marketing communities are responding to privacy challenges in two basic ways. First, marketers are being more transparent in their data-collection efforts. The second approach involves a trade-off: Marketers offer something of value in exchange for consumers' time, attention and data. Transparency in itself offers value: Empowering the consumer with knowledge and control helps create trust. One good example of this is Google's requirement that their AdWords advertisers provide a link to their companies' privacy policy statements.
This sensitive issue will continue to evolve, but it's clear that consumers are motivated to protect their privacy more than ever once they become aware of how extensive data collection and dissemination efforts have become.
Julia Parisot is the Vice President of Business-to-Business Operations at LoSasso Advertising Inc., a Chicago based interactive agency specializing in content marketing strategies and customer acquisition for leading B2B and consumer brands. (See more posts by Julia)