Optimized mobile content delivery: weighing the options
Published April 15, 2015 4:10 pm by Dimo Raychev
Categories: Analytics and performance optimization, Web and UX trends
Ask any Web developer or designer what keeps them up at night and you'll likely hear something about accessibility and user experience across multiple devices.
While the introduction of smart phones and tablets revolutionized the consumer market, the advent and evolution of these devices has us Web professionals scratching our heads. How do we make sure that the websites and emails we build are rendering gracefully for all users? For years, the most popular answer has been responsive Web design.
With responsive design, the same HTML code is delivered to each device, but managed through separate CSS instructions. It's easy to implement and it works well for content-oriented websites without a lot of functionality or differences in user experiences. Disadvantages, however, include longer loading time, additional asset management and inflexibility across all devices.
While there are millions of successful responsive design case studies—Google has even promoted the practice—the growing demand for faster and better mobile interaction has pushed us toward a new technology: adaptive website delivery.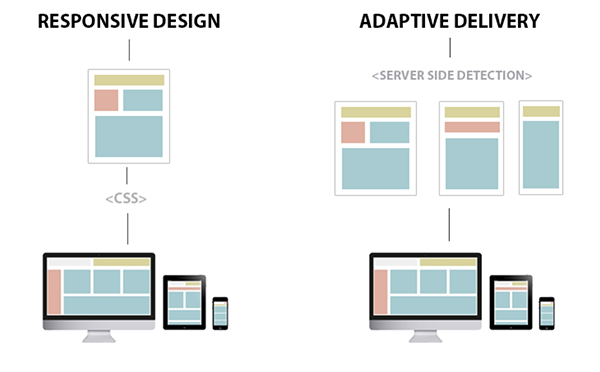 With adaptive delivery, the hosting server detects the device and selects the appropriate content delivery method. This allows for a highly differentiated experience that is built for the specific intent of your visitor. For example, on a bowling center website, a mobile user is probably more interested in accessing a phone number and directions than submitting a contact form. Understanding the user's intentions is the key to providing the ultimate user experience.
Adaptive websites are also much faster and offer enhanced user experience. This is because adaptive delivery works by transferring only those assets necessary for the specific device and user, making performance more efficient. For example, when a retina display is detected, the site delivers only the high-resolution images.
[Tweet "Adaptive websites are faster and offer enhanced user experience."]
Still, the method isn't without its drawbacks; it can be complex, requires more planning and calls for more resources. In light of this, an increasing number of Web developers are looking to a hybrid solution. They enjoy the cost and time efficiencies of responsive design coupled with the improved user experience and prioritized content of adaptive delivery.
Which solution is best for you: responsive, adaptive or a combination of the two? Identify your audience's needs and aim for the best user experience and you'll be on the right track.
– Dimo Raychev, Interactive/Web Director