A recent study done by eMarketer reinforces what we have been observing for a while now – online video is not only rife with opportunity, but it is growing on a strong curve.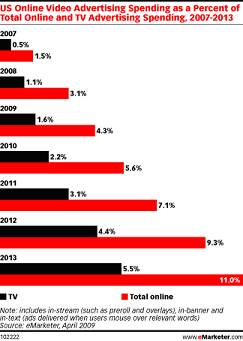 While this survey was obviously focused on consumer marketers, I believe the opportunity is even more important to underscore with business-to-business (B2B) marketers. B2B advertisers have a harder time making the jump to online video because most have never relied on video in the first place. But the fact remains – there is no more compelling way to tell your story than well-crafted video.
B2B buyers often research their purchases online before vendor contact is ever made. If you can target your customers online and bring them directly to a dynamic and interactive presentation, you have an opportunity to create confidence in your brand like never before.
The early adopters of this platform will learn faster and benefit more than their competitors. With marketing budgets as tight as they are these days, the question we all need to ask is: where are the targeted opportunities to prove this new model for our brand? In our experience, they are online and they deliver strong ROI.
Mike Hernalsteen is the Senior Interactive Marketing Specialist at LoSasso Advertising Inc., a Chicago based interactive agency where he develops comprehensive online marketing strategies for leading B2B and consumer brands. (See more posts by Mike)