Mobile Marketing: Anytime, Anywhere
Published June 1, 2011 2:48 pm by Jessica Schanta
Categories: Analytics and performance optimization, Integration at its best, Web and UX trends
Mobile marketing gives consumers the ability to access content anywhere at any time. It is essential for marketers to continuously create content that delivers the type of value consumers are looking for. Marketers have to be able to give up some control of their brand in order to fully engage consumers.
Mobile marketing focuses on real-time data collection and analysis while simultaneously retaining constant contact with a customer base. The use of mobile marketing and social media allows businesses to embrace customer service, market responsiveness, and maintain their brand's voice in a technology-driven market.
Take for example Pandora who launched its first mobile app in 2008. Pandora's competitive advantage is their unique ability to personalize music and give consumers the ultimate music experience. Not only are consumers able to listen to music whenever and wherever they are, but Pandora introduces us to similar artists further developing our experiences as music listeners.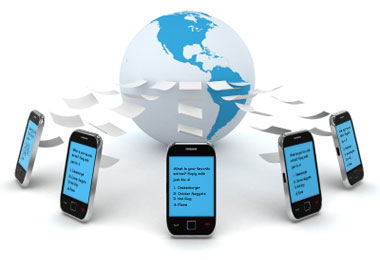 Pandora cultivates the consumer experience through artist suggestions and encourages consumers to explore related "products".  Their connection with Facebook lets users see what type of music our friends "like" expanding its reach to its target market. Pandora embraces the power of the people and maintains its status at the top of music recommendation services because of their mobile accessibility.
Through mobile and online marketing, advertisers can target consumers by using certain demographics and traits (such as gender, ZIP code location, and type of music) increasing their local-market penetration. This is where analytics come into play – giving hard numbers for traffic, click through rates, time visitors spend on pages and how they like to share information.
Mobile marketing optimizes consumer engagement and produces real-time results for advertisers making it one of the most prevalent and powerful marketing tools in the "social" world. By delivering content in multiple ways, mobile marketing supports consumer power and embraces customer engagement.