Marketing Ramifications of Net Neutrality
Published March 7, 2011 2:25 pm by LoSasso
Categories: Social media, The business of marketing, Web and UX trends
What does net neutrality and its ensuing court battles have to do with B2B and B2C marketing strategies?  A bushel and a peck.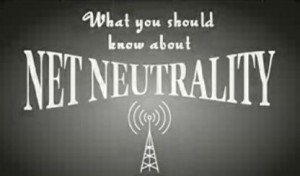 Since fall of last year, the F.C.C. and large corporations (Google, Verizon, AT&T, Comcast) have been duking it out over government regulation of the internet – which as of right now is still considered an information service and therefore a public resource.  The internet is the last standing outlet for democratized free information — telecommunications services are far more privatized, without F.C.C. regulation, and so can determine what information a user views.
"The suits could potentially free Internet service providers from regulation — allowing them to treat their own content better than that of rivals, and block content that they didn't like or competed with. Verizon and AT&T have about 60 percent of wireless subscribers. And 80 percent of Americans live in areas with only two wireline broadband providers. In a market with such slender competition, consumers are likely to lose out." (3.6.11, Net Neutrality, back in court, NYT)
So how does this affect a marketer? Well, it's really quite simple.  Social media has exploded in the industry as the best way to establish working relationships with established and would-be consumers.
Interactive marketing works off diverse and publicly accessible platforms to interact freely with the masses.  Marketers on the small side of business and upstarts would lose the advantage of the last free information channel and new clientele.  Now, that open channel is vulnerable to restriction and tiered-pricing for faster access to predetermined content.
At the very least if net neutrality becomes a thing of the past, the SEO (search engine optimization) and mobile marketing games will have to adapt and at a cost.