IAd – The Next Generation in Mobile Marketing
Published May 7, 2010 10:19 am by LoSasso
Categories: The business of marketing, Web and UX trends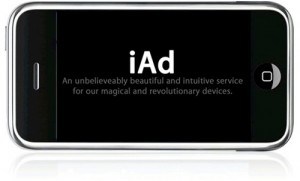 Apple recently introduced iAd, a software system that puts ads into the applications available at the App Store. Over the years Apple has gained the reputation that its products are pricey, but they are also innovative, cutting edge, and just plain cool – and usually worth the extra money. Will iAd prove the same? No definitive word on that yet, but one thing is clear, the price tag is certainly keeping with the Apple tradition. With ad space reportedly at a whopping $1 million and even more to get in at the launch, an Apple spokeswoman said the company will sell and serve the ads, while app developers will receive 60 percent of the revenue and Apple gets the other 40 percent. Currently, similar mobile deals are costing marketers between $100,000 and $200,000. Essentially, Apple is charging $10 per-thousand impressions (CPM), as well as an additional $2 every time a user clicks through the ad (CPC) – most mobile ad systems generally charge for one or the other, but Apple has taken it to a whole new level by charging for both.
Furthermore, even though companies are paying big bucks for the space, they will be forced to hand over creative control to Apple (at least for the time-being). According to the Wall Street Journal, "The ads will go through an approval process, and Apple will build the ads itself during the first couple of months to make sure they work well and attain a certain aesthetic and functionality. Eventually, Apple plans to create a developer kit so that agencies will be able to design and create the ads themselves."
While it is understandable that Apple wants to make sure everything is perfect, not everyone is totally comfortable with the arrangement, "…as a creative director, I don't feel completely comfortable letting Apple do the creative," says Lars Bastholm, chief digital creative officer at WPP's Ogilvy. Aside from questions about the cost and creative control of iAd, marketers are excited about the new outlet. Advertisers will be able to reach a very large audience (According to Apple, it has sold 85 million iPhones and iPod Touches so far and says consumers spend approximately 30 minutes using applications per day) and will be able to target users based on things like download preferences and general location.
IAd is expected to launch on the iPhone and iPod Touch in June and on the iPad later in the year.