Google Adds Site Speed as Signal in Search Rankings Algorithms
Published April 15, 2010 10:00 am by LoSasso
Categories: Analytics and performance optimization, Web and UX trends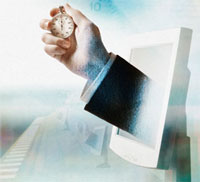 Google adds another signal to their search rankings algorithms:  site speed. What does that mean for you?   Possibly, not much.   Google has already implemented the change, so if your site rankings haven't varied much recently chances are your site may not be affected.  In fact, according to Google, "Currently, fewer than 1% of search queries are affected by the site speed signal."
While site speed may not hold too much bearing on Google's search ratings as of now, some of the other benefits of having a quick site may have you kicking your site speed into high gear.  Results from Google's internal studies reveal what anyone who has ever used the Internet already knows, faster sites make for happier users.   But what they also show is that the speed at which a site loads plays an important role in how much time a user will spend there.
Another advantage of faster sites is reduced operating costs.  O'Reilly's blog, Radar, sums up some of the presentations from Velocity 2009 Web Performance and Operations Conference including a presentation by Bing's Eric Schurman and Google Search's Jake Brutlag detailing the findings of  their independently conducted latency experiments.  Bing found that just a 2 second slowdown lowered requests per user by almost 2% and revenue per user by nearly 4.5%.  Google search discovered that delay of only 400 milliseconds caused a drop in number of searches per user by close to 0.6% and that even after fixing the delay searches per user were still down but just over 0.2%.  This shows that a slow site can negatively affect users behavior even after the problem is corrected.  Check out the whole post here.
The bottom line?  Making your site as speedy as possible has more benefits than just upping your Google search ranking – it also helps ensure your users have a pleasant experience when visiting your site and keeps them coming back for more.
Google has compiled a list of tips and tools to help you make your site run faster.  Check them out here.