FTC to Create Blogger Transparency
Published October 5, 2009 1:41 pm by LoSasso
Categories: The business of marketing, Web and UX trends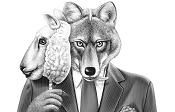 Going into effect Dec. 1, the Federal Trade Commission (FTC) will require bloggers to disclose any compensation they receive from companies in exchange for reviewing products on their blogs.
This comes about in response to the growing practice of marketers soliciting popular bloggers to endorse their products for payment or freebies.
Up until now this practice has been like the fabled wolf hidden in sheep's clothing. Essentially, marketers use bloggers to advertise their products under the guise of being unendorsed 'user-generated content,' when in reality it is basically paid advertising just like banner ads and text ads in the SERPs.
This is the first time the commission has revised its guidelines on endorsements and testimonials in almost 30 years. With the origins of the content available for all to see, it will be interesting to see how this affects the blogging community. Will it reduce blogger credibility? Or reduce the practice of paid blog content altogether?