Facebook is Taking Over the World
Published April 23, 2010 2:31 pm by LoSasso
Categories: Social media, Web and UX trends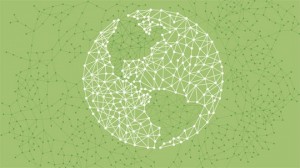 Ok, so maybe not the world, but Facebook is taking steps to gain a larger presence on the web.  Facebook announced multiple new initiatives Wednesday at the F8 conference all aimed at one goal: to expand Facebook's already massive reach even further across the web.
One of the biggest initiatives is to take the "Like" button, which Facebook users are already familiar with, to outside websites.  Facebook has entered into deals with third-party websites (Yelp, Pandora, and Microsoft Docs are the first three to get a test run) that allow the sites to connect users with Facebook even when they aren't on the Facebook page.  This will let users "Like" a site and share that with their friends even if they aren't physically on Facebook's website.  According to their blog Facebook says they are taking these steps to help create a more personalized and user-centered web experience.  Yelp, for example, can be personalized for new users if they have a Facebook account.  Yelp users will be able to see what businesses friends have liked and a feed of their friend's activities on Yelp (adding pictures, writing reviews, and liking businesses).
Facebook's co-founder and CEO Mark Zuckerberg notes, "The web is at a really important turning point right now.  We're building toward a web where the default is social. Every application and product will be redesigned from the ground up to use a person's real identity and friends."
Although it is a concern for many, Facebook says these changes won't affect user's privacy.   Zuckerberg points out that these new features will show no new information to anyone than was previously visible online.  Only your friends will be able to see what you like, unless of course you have your profile set as public – in which case, it's all fair game.
So what does all this really mean?  Zuckerberg sums it all up in a blog post by saying, "Today…we are making it so all websites can work together to build a more comprehensive map of connections and create better, more social experiences for everyone."
Well, when you put it like that, it doesn't sound so bad…