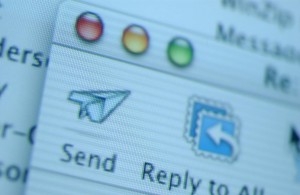 Contrary to some sensational media reports in recent years past, email is NOT dead. Thanks to smarter mobile devices, we're constantly connected—and, dare we say, addicted.
In fact, Lyris revealed in a study that 90 percent of Generation Y checks the smart phone before even getting out of bed. Perhaps more enlightening: the iPhone now commands the largest chunk of market share among email clients—a whopping 23 percent. Put simply, we relish the ability to check our email anywhere, anytime (we're talking to you, iPhonaholic).
The downside of this 24/7 access? Information overload—and an attention span the length of the average subject line. Industry leaders estimate that marketers have a measly 2 to 10 seconds to get their message across before their over-stimulated readers jump to the next email. Brevity, clarity and punch are crucial.
Stick around for the next posts in this three-part series, as we break down the most important aspects of successful, potent email design, from the most important sections of your email to the obstacles holding you—and your click-through-rate—back.
Click here to read part 2.
Click here to read part 3.