Bing Launches Visual Search
Published September 15, 2009 6:47 pm by LoSasso
Categories: LoSasso news, Web and UX trends

While text search is a great research tool for searchers who know the name of the term they are researching, it isn't as helpful to searchers who are unsure about the exact terminology. Bing's new Visual Search is a great feature for these users.
For example, you were walking through the city last Saturday and saw a swanky new car that you'd never seen before. You don't know the name, but you can picture the car perfectly — try Visual Search.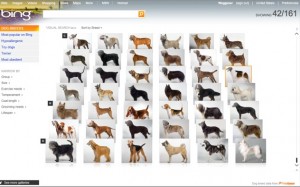 Or, your neighbors recently bought a cute dog, but you don't know the name of the dog breed — you can browse through Bing's Visual Search to get your answer!
Visual Search is a great option for these users because it allows them to search based on an entirely different set of criteria than traditional search.
It also presents a new opportunity for marketers. Industry leaders will have the chance to create visually stimulating SEO camaigns targeted towards Visual Search.
According to Mashable, Visual Search is powered by Silverlight, and the content is provided by sources like MSN. The grid-like format, displaying around 50 images at a time, allows users to review many images at a time to quickly and efficiently find the topic they are searching for.
While this new way of searching won't necessarily revolutionize Bing's search engine, it will definitely prove to be a great tool for many searchers stumped by text search options.
Mike Hernalsteen is the Senior Interactive Marketing Specialist at LoSasso Advertising Inc., a Chicago based interactive agency where he develops comprehensive online marketing strategies for leading B2B and consumer brands. (See more posts by Mike)