Are Brand Websites Still Necessary?
Published August 13, 2010 12:46 pm by LoSasso
Categories: Branding, Social media, The business of marketing, Web and UX trends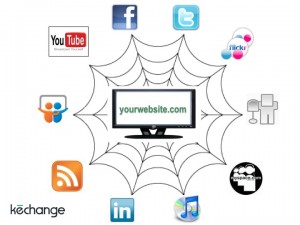 Brand websites – for years they have been arguably one of the most important tools for businesses to connect and share information with their customers.  Vast amounts of time and money have gone into creating, maintaining and perfecting these brand websites over the years.  But with all the hype around Twitter, Facebook and other social media platforms, some businesses are left wondering if all that work was worth it.
According to an article written by Pete Blackshaw in AdAge, the answer is yes.  Blackshaw points out that while in fact the online landscape has changed; branded websites are still an important part of a business's online presence.  The key, it seems is learning to integrate the website with what Blackshaw calls "brand stands", such as Facebook, Twitter, etc…
Blackshaw notes that a smart company should treat the brand website as a home base and all of brand stands as extensions of it.  By having content flow seamlessly between the website and the brand stands, and vise-a-versa, you are beefing up your brands presence on the Internet, thus increasing the likelihood of connecting with customers.
The bottom line is that while the online landscape is changing, the tried and true basics of Internet branding are just as important now as they ever were.  By simply integrating your brand website with your brand stands and keeping your content fresh and relevant, you can ensure that your brand website will never be obsolete.
Click here to read the article in AdAge by Pete Blackshaw in it's entirety.