The National Restaurant Association celebrates 100 years
Published May 29, 2019 12:03 pm by Kylie Wasserman
Categories: Blog, Event marketing
We recently attended one of the largest foodservice trade shows, joining industry professionals in discovering new innovations and gaining endless knowledge. But this year's National Restaurant Association (NRA) Show was even more special as it marked the 100th show—and a centennial of setting the table for success.
100 years of history
The National Restaurant Association has a rich history of inspiring foodservice professionals, and satisfying customers because of it. Over the last 100 years, they've thrived amidst the prohibition era, Great Depression, WWII, natural disasters and political hurdles. They've even created ad campaigns, jingles, foundations, programs and more to grow the industry and foster its success.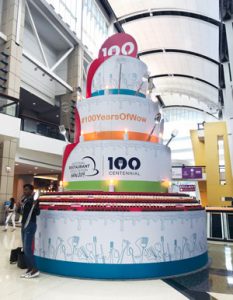 In 2019, the association is proud to promote that "the restaurant industry employs 15 million people [which equals] about one in 10 working Americans." However, while the NRA celebrates the progress and power of the industry today, they continue to look to what's next.
Celebrating a centennial
Reaching a centennial is a major milestone and one the NRA celebrated throughout their entire experience with the #100yearsofwow theme. From social to the show's app to the event, a mix of past and present swirled together to excite and inspire attendees.
As we strolled through the show, there were nods to past achievements, long-standing partnerships and the centennial itself. However, the majority of 100-year marketing was limited to social media, the app and neutral show areas like the entrance, concourse and NRA booth.
The highlight was a daily celebration with a towering centennial cake. Attendees could snap photos to share on social media and enjoy daily treats (hello, mini cupcakes) to savor the theme.
After stopping by the cake, the NRA exhibition booth offered a place to talk to association leads and engage with interactive displays. While the booth focused more on the next 100 years, the theme of celebrating achievements and progress rang through.
To the next 100 years
We've all heard that the past can inspire the future, and the 2019 NRA Show is a testament to that. Seeing how far the restaurant industry has come is remarkable, but it's even more amazing to get a glimpse of what's to come. From product innovations to sustainability efforts to growth strategies, foodservice professionals are searching for ways to not only strengthen and advance their own businesses—but the world.