Big Brand Social Media Marketing Ready for Kickoff
Published February 4, 2011 5:18 pm by LoSasso
Categories: Branding, Integration at its best, Social media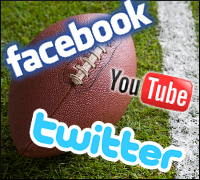 With the Super Bowl only days away, the internet is buzzing with speculation surrounding this year's Super Bowl commercials. This time of year is always exciting for both sports fans and advertisers as the big game promises drama on the field and new ads between timeouts. Marketers are turning to social media to help generate buzz and keep consumers engaged in campaigns long after the big game ends.
According to Advertising Age (AdAge), "Super Bowl advertisers are tapping social media to extend their buy like never before." (Social Bowl)
Audi has used social media and other Web 2.0 platforms, such as blogs, to build a sense of anticipation for their quirky Super Bowl spot. The hype has already built a sense of anticipation amongst the keen web connoisseur and interested car buyers.  Once the peculiar ad airs, AdAge reports that Audi has created a Twitter hashtag  allowing viewers to follow discussion about the commercial on the social platform. With advertisers spending around $3 million for a time slot, campaign managers are wisely using the new marketing tool to get the most bang for their buck.
It will be interesting to see how long the buzz carries with these types of social campaigns. We at LoSasso will be paying close attention to the ad spots during Sunday's game to see how the social media integration plays out — but in the meantime, check out our favorite ads from last year's crop of Super Bowl commercials.