Social Media: A Process Not Just a Destination
Published April 8, 2009 11:00 am by LoSasso
Categories: Integration at its best, Social media
A successful social media strategy requires constant engagement with the communities that you are a part of online. Many marketers set up a twitter account, follow 100 people and expect to automatically gain a mass of followers. Unfortunately, it doesn't work that way.
Developing social networks online is a lot like interacting with social networks in the real world. You can't expect to meet someone at a bar and ask them to marry you the next day. Getting to know someone takes time and effort.
Interaction and persistence are key to a successful social media strategy. David Finch, of Social Media Explorer, outlined three concepts in his blog that can help you build a sound social media strategy…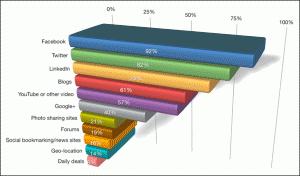 Rome wasn't built in a day and neither is a social media strategy, so build it out in phases. No matter what type of social media you are developing you must launch it, monitor its degree of interaction, and then make adjustments around the components where you're best engaging your audience.
This phase requires fresh content as well as constant monitoring. By determining what works for your brand you can develop a unique approach rather than simply copying someone else's.
Start from the beginning. A successful social media strategy will always involve adding value to others as well as becoming a human face rather then just a brand or an organization. This aspect of social media will always be the foundation to build social interaction.
Integrate Multiple Methods of Engagement
After building a persistent relationship through your social media strategy, you can begin to to integrate all these platforms into one concentrated effort. At this point, you are creating content centric channels with video, blogs, and images that you now can distribute through the communities that you are engaging in. You can now promote your content, products and services successfully.