As an active and growing marketing agency, there are few things we love more than stretching our mental (and creative muscles). Recently, we asked our team for their top book and podcast recommendations for marketers.
We first blogged about our love of reading here. From executives to graphic designers, members from every department had great items to add to our list. Check out nine of our must-reads (and listens) for marketers below.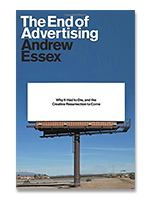 The End of Advertising
by Andrew Essex
I love this book because it captures the changing nature of our industry, and the need for constant evolution to stay successful. It also drives home the value good agencies provide their clients: the ability to understand and apply creativity to emerging technologies and constant change in consumer lifestyles.
Don't be deceived by the title! It's a reminder that to stay relevant and meaningful, smart agencies must focus less on "advertising" and more on prompting consumer engagement when and where it's most meaningful.
—John Rossmiller, VP Client Services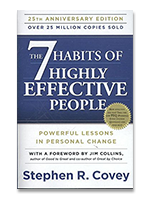 The 7 Habits of Highly Effective People: Powerful Lessons in Personal Change
by Stephen R Covey
Without personal success, it's incredibly difficult to have professional success. Steven Covey's The 7 Habits of Highly Effective People: Powerful Lessons in Personal Change emerged as a ground-breaker and continues to be a resource for everyone from CEOs to students.
I found myself using the lessons in my professional and personal life. One of my favorite lessons is "Emotional Piggy Bank" – what you give and take from others affects your relationship when it comes to trust and respect.
—Mackenzie Nickens, Account Coordinator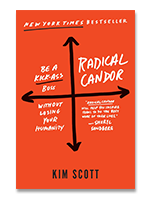 Radical Candor
by Kim Scott
Leadership is equal parts art, science and relationship. Radical Candor is all about building, leading and inspiring teams (and maintaining your humanity as a boss).
It focuses on building better relationships with employees by making it personal, getting (sh)it done and understand why it matters.
—Mark Hollingsworth, VP Operations and Talent Development
"Why did he do that?"
Other people's actions—and even our own actions—can be fascinating, and sometimes downright baffling. NPR's Hidden Brain series aims to reveal unconscious patterns in human behavior that shape our choices and direct our relationships. This podcast deals with psychology and how the brain works and ultimately, why we humans do the things we do. In other words, there's never a dull moment!
—Ben Lippert, Digital Marketing Specialist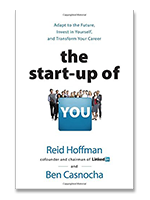 The Start-Up of You
by Reid Hoffman and Ben Casnocha
It's not uncommon for executives of well-known companies to churn out books about how to accomplish X, Y and Z. What I love about this this book is that its tips and wisdom aren't obvious insights everyone knows instinctively, or that have already been covered exhaustively in mainstream media. The authors of this book provide fresh perspectives on lifelong growth and career satisfaction, outlining everything from to "pivoting" in your career to building and mapping out your professional network—and using that network effectively over the long term.
—Suzanna Colberg, Senior Copywriter and Content Strategist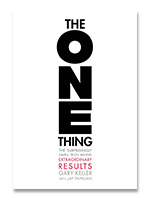 The ONE Thing: The Surprisingly Simple Truth Behind Extraordinary Results
by Gary Keller and Jay Papasan
What if there was just ONE thing you needed to do that, when done consistently, will deliver extraordinary results? The One Thing explains how to beat the lies that block our success, overcome common time-stealers, and leverage the laws of purpose, priority, and productivity.
It's a practical guide with specific steps and tools to become more productive and focused in your daily routine.
—Julia Parisot, VP Business Development
Podcasts are a great alternative to books for those of us who seem to find ourselves constantly on-the-go.
As a marketer, I'm very curious about the "unseeable forces that control human behavior and shape our ideas, beliefs and assumptions." That is, verbatim, the description of what this podcast delves into.
—Jada Cash, Associate Creative Director, Integrated Strategy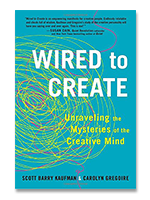 Wired To Create: Unraveling the Mysteries of the Human Mind
by Scott Barry Kaufman, Carolyn Gregoire
This is the first book I've read on the subject of creativity that attempts to identify via science the genetic characteristics that make someone creative, and how a person's emotional and mental attributes contribute to their imaginative ability.
This is a great book in that it teaches readers how to unlock, then develop their own creative talents. My favorite fact from this book: People with a predisposition to creativity use more of their brain than any other type of person.
—Kendall Monahan, Executive Creative Director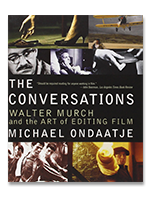 The Conversations: Walter Murch and the Art of Editing Film
by Michael Ondaatje
The author of this book has Walter Murch dig pretty deep into not only the history of his groundbreaking work, but also his theories and thoughts on the future of film.
I circled and underlined almost every paragraph because there is an endless supply of thought-provoking and educational statements. I've gone back to it for many years for inspiration and quite a few of the lines I had highlighted have become my rules as a creator, my 10+ commandments.
—Anthony Rizzo, Video and Motion Graphics Artist
What about you? What are your must-reads for marketers? Let us know in the comment section below.