B2B Ignite USA 2020—we've got the post-event goods!
Published June 10, 2020 1:56 pm by LoSasso
Categories: Blog, eBooks, Featured posts, LoSasso news, Resources, The business of marketing
The B2B Ignite USA 2020 virtual conference took place on May 27-28, and as a sponsor, we were thrilled to have taken part. It was an enlightening and inspiring time, so we wanted to share some of the goods with those who might have missed it. Scroll for inside access!
Panel discussion:
Assembling the right team to navigate turbulent times and bring your vision to life
Live at the event, our very own Scott LoSasso and VP of Client Services Amanda Callahan led a panel discussion with two standout marketing leaders: Deirdre Flynn, Executive Vice President of the North American Association of Food Equipment Manufacturers (NAFEM) and Cara McCall, Vice President, Marketing at CNA Insurance. They discussed their experience with assembling the right team to navigate turbulent times and bringing a marketing vision to life—including a helpful framework to do so. Check out the full session in the video below.
Free eBook: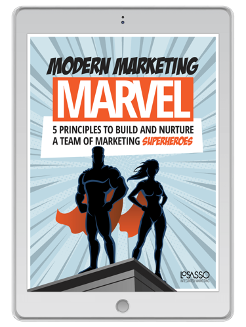 5 principles to build and nurture a team of marketing superheroes
In conjunction with our panel discussion, we offered attendees a free eBook with our proven framework for building a team of modern marketing marvels—internally or through help from partners. It comes with actionable tips and a tool to help assess the current state of your marketing team's roles and accountabilities. Fill in the form below to snag your copy.
Free eBook: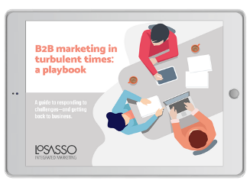 B2B marketing in turbulent times: a playbook
Bonus eBook alert! In addition to our teams theme, we've had a lot on our mind regarding current events and our new reality. We'd seen a lot of resources for consumer marketers—but not much specific to our friends in B2B. So we created a five-step playbook—with actionable worksheets, tools and activities—to help you manage through turbulent times (now and in the future!). Fill in the form below to get your free copy.
Other related resources
Care to chat about team-building strategies or COVID-response marketing strategies? Get in touch.