Hitting the open road—RV style
Published September 11, 2020 1:45 pm by LoSasso
Categories: Blog, LoSasso fun, LoSasso news
For nearly six years, the LoSasso team has had the pleasure of working with Jayco—a leading RV manufacturer based in Middlebury, Indiana. During that time, we've delved deep into the industry—and the minds of current and prospective RVers. While most of us have had our own camping and RVing experiences, for many, it has been a while since we've hit the open road in one.
But the strange summer of 2020 has changed all that and given two of our LoSassins—CEO Scott LoSasso and Creative Director Jada Cash—the golden opportunity of a summer RV trip. Not only did they see the country and build wonderful memories with their families, but it was also a great opportunity for gathering hands-on consumer insights as we ramp up for another year supporting Jayco.
For those bitten by the RV bug, but who aren't sure where to start, here are some tips and tricks Scott and Jada's families shared from their time out on the road.
RVing is FUN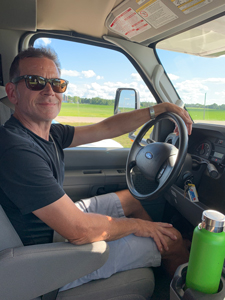 Both Scott and Jada's RV trips were taken partly out of necessity, to avoid the less-than-desirable option of flying. Scott's family was headed to the San Francisco area to drop his oldest son at college. Jada and her family were returning to Chicago after a quarantine spent in Arizona with her parents (thanks nana and papa for the free childcare!)
As Scott describes it:
"RV rookies" would appropriately describe us. We have camped a few times, but always with another family that had both experience and gear. We didn't know what to expect, but we were ready for the adventure. Spoiler alert: it was great."
Jada agrees:
"I had only RVed once before, when I was a kid. I am also not particularly fond of camping… I love to see nature—then go back to my cushy hotel room. That's the beauty of RVing—it's the best of both!"
Tips and tricks
Both families rented from a large RV rental chain, and both agree that some of the RV sharing sites (Outdoorsy or RV Share) might be better if you're going the rental route. A personal unit will come better equipped, and you'll have more choices in terms of features and floorplans. The large rental companies have standard, bare-bones units with just the basics.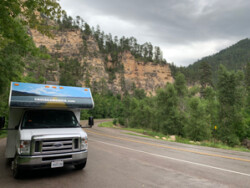 "The rental companies skimp in places that annoy," Scott explains. "More hooks, cup holders and a paper towel holder would have solved most of those issues. Otherwise they have much of what you would expect, and both my wife and I found it very easy to drive."
If you're new to RVing, make sure you watch a few videos about general, on-the-road maintenance (like emptying the tanks) and always check to make sure you have all the necessary hoses and accessories to do those jobs before you hit the road. Jada's family realized, only after arriving at camp, that their rental unit was missing the hose to hook up to water.
RVing affords you the flexibility to change your plans on a whim, which is fantastic. But given that the popularity of camping and RVing is exploding at the moment, you'll want to book campsites well in advance to make sure you save a spot. On that note, Jada has a tip:
"My husband and kids were willing to rough it; but as a self-proclaimed 'glamper', I need my AC, running water, etc. Some nice-to-haves were laundry, our own picnic table/grill in the spot where we park, etc. The level of frills varies greatly depending on the campsite, so think about what you want/need and plan ahead."
Finally, keep in mind the time it takes to pick up your RV: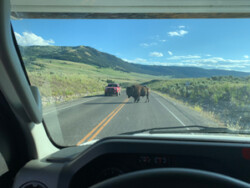 "If you are renting from a chain during a busy time of year, request an early pick-up appointment," Scott says. "There are times when the lines are several hours long—and that is a terrible way to start a long drive."

What to bring
Stocking up before your RV trip is important. Scott breaks it down for us:
For brevity, I'll leave out obvious things you will want to bring such as camping chairs and a cooler—my list is full of tips that I wish I had gotten before we set off. For starters, don't shop at Costco for consumable supplies. The fridge is small and 32 ounces of mustard is way too much. Bring undersized condiments and kitchen stuff. 

Real silverware is a must, and washable plastic plates and bowls won't break when you hit a bump. If everyone has their own water thermos you will wash and wonder less; in fact, labeling stuff like plates, bowls and glasses would have been a good idea. On that front, a couple of plastic tubs to wash and rinse on a picnic table makes for fast cleanup, and a plastic kitchen size garbage can is also a must.
Here is Scott's must-have supply list:
A tool box. High on the list for a reason. Things rattle and break. I was very glad that I brought a basic set of tools, bungee cords, duct tape and a container of various sized screws, bolts and nails.
Plenty of charging devices and at least one AC converter. Unless you run the generator, the power outlets in the RV don't work while you are driving.
Remote speaker. The rental units do not have speakers in the back so we listened to podcasts and music on a speaker we could position for everyone to hear.
A map. Download the map of where you are going so your mapping software will still work when you don't have good cell service. Another option is the Roadtrippers app—the paid version has an offline maps feature.
Gas Buddy or Roadtrippers app. RVs aren't known for having the best gas mileage and there are places where gas is 100 miles away. Never run below a quarter-tank of gas and get an app to help plan for gas stops.
Fewer clothes. Most RV Parks have washer dryer and you probably won't shower that often.
A tablecloth. It adds a nice touch to any old campsite picnic table.
A broom, dust pan and floor/welcome mats. This is a must as dirt gets tracked in easily from the campsite and on-the-road snack crumbs end up everywhere. If you can wipe your feet on a mat before you enter, all the better. We had one at the door and one outside the shower/bathroom.
Y-splitter and an extra collapsible hose for the water hookup. Your RV will come with a hose for the water hookup, but when you are parked at an RV site it's very nice to have an extra hose handy for washing dishes, coolers, flip-flops, tables, chairs, etc.
An in-line water filter for your hose hookup. RV veterans all have these—I was envious.
Leveling blocks. RV sites can be on uneven ground and though it may sound silly, it is really a lot nicer to live/sleep in a place that isn't leaning.
Rubber gloves. For those dirty jobs. At least two pairs; a box of disposables is even better.
Folding step stool. At 5'9″ the back of the deep cabinets and the top of the windshield were a stretch for me—and you want clean windows.
Mattress pads, nice sheets and your own pillow. 'Nuff said.
On a final note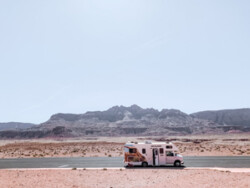 Have fun! Both families agree that as you plan your days you should cushion the GPS time estimates. After all, it's a marathon, not a sprint, so you'll want to allow plenty of time to enjoy the journey. That also means adding at least 30 to 60 minutes to every sightseeing or lunch stop. Even then, accept the fact that you may be consistently behind schedule—especially if kids are involved! And if you fall off schedule, try not to worry about it—in a pinch you can sleep just about anywhere.
Happy trails!