The Golden Rule: Tweeting Etiquette
Published February 16, 2011 10:25 am by LoSasso
Categories: Audience insights, Digital media strategy, Social media
For the overzealous out there, Twitter can become an entrancing and addictive platform for one's incessant and inane ramblings.  Marketers can be the worst culprits of all by over-saturating their followers with the equivalence of spam.  Nobody likes spam which causes followers to click the dreaded "unfollow" button and for companies to lose traction with a desired target audience. Social media networks are backed by extensive data collection to enhance their users' understanding of their consumer base and respond accordingly.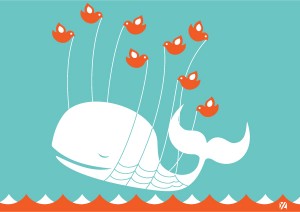 Marketers risk losing the people they're trying to reach when they approach social media without discipline and structure.   Tweets can be scheduled to post automatically  based on the user's customized settings.  Variety keeps followers engaged both through content and number of tweets per day: regular tweets at regular intervals allow a reader to enjoy the experience rather than become annoyed by it.  A reader at ease is more likely to read the content you've tailored to them instead of scrolling past it and disengaging completely.
Just follow the golden rule: tweet others as you would like to be tweeted.
Follow LoSasso's Twitter feed for more helpful hints on getting the most out of Twitter.