Socially Awkward: Social Media and the Self-Centered Loudmouth
Published November 12, 2009 2:36 pm by David Fabbri
Categories: Digital media strategy, PR perspectives, Social media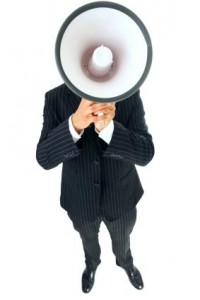 Are your blog, Twitter feed and e-mail newsletters full of "important," "relevant," and "compelling" facts about why your products and services are better than your competitors? Do you make a great case? Lay out all the facts? Drive home the important messages?
You could be chasing away the people you are hoping to engage.

Like the creep at the cocktail party that can't stop talking about himself, companies that have little to offer beyond traditional "Me, Me, Me" marketing messages are finding little audience and even less engagement in the realm of social media.
These days marketers are all abuzz about social media. They want to find ways to better utilize social media to "harness the groundswell" and "go viral." The problem is most don't deliver content that anyone would want to read, much less forward to a friend.
The truth is, most people don't care that much about your products or your company. And why should they? People go online for information and entertainment – not a sales pitch. If you want to attract and engage their attention, provide content that will trigger their "a-ha" reflex, relieve a pain point or provide some form of entertainment.
In a recent post on CopyBlogger, Sonia Simone discusses how boring, self-serving content has "killed" e-mail marketing:
Self-centered content is dull… I get dozens of messages every day that are so boring and self-centered I can't be bothered to unsubscribe. I just set up a rule to automatically throw them in the trash as they come in. Or I let them pile up in the spam filter until I feel like deleting 20 or 30 at a time without looking at them."
Any marketer will tell you they understand the need to provide valuable information online. But what constitutes value? Unless someone is actively researching a purchase, a list of specifications isn't going to hold much value. Besides, that information is already available on your website.
To be effective in social media, you've got to stop selling and simply provide information that offers independent value. Industry trends, interesting anecdotes, helpful tips, links to important content from other sources – anything that your target audience will be excited to read.
Providing content that is relevant but not a direct sales pitch, builds credibility and authority for your business. It creates trust and ongoing engagement. People want your content. They'll wait for it, open it, read it and forward it on to others.
If you establish and nurture this type of relationship, then when they are ready to make a purchase, they know and trust you, putting you high on their list of potential solutions.
David Fabbri is Creative Director of LoSasso Advertising Inc., a Chicago based interactive agency specializing in content marketing strategies and customer acquisition for leading B2B and consumer brands. (See more posts by David)