Social Media Spotlight: Facebook Fan Boxes
Published July 8, 2009 4:34 pm by LoSasso
Categories: Digital media strategy, Social media
Today Facebook Developer Ray C. He announced that Facebook page administrators can now embed the latest Facebook Fan Page activity to their own website.
Essentially, this means that users can connect with brands, celebrities, companies, etc. whether they're on or off Facebook.
The technology is called the Facebook Fan box and it allows developers to simply copy and paste the code into their site and—voila!—they can display the page's latest updates on their main site.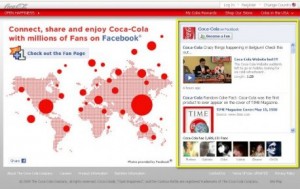 The Fan Box takes a minimum of 200px width and 64px height with all features included, so it can integrate easily into a website.
This has the potential to be a great tool for online marketers because it makes Facebook even more accessible for web users, which will undoubtedly increase traffic to both sites.
Already, industry leaders are jumping on the Fan Box bandwagon. Companies like Newsweek and Coca-Cola have begun streaming Facebook from their sites.