Social Media Spotlight: Digg
Published May 11, 2009 8:30 am by LoSasso
Categories: Content marketing, Digital media strategy, LoSasso news, Social media, Video
Digg is a site built to help people share and discover interesting or useful web content. From well known sites, to unknown blogs, Digg users post content and Digg rates it based on users' votes. This allows Digg to amass the best content the web has to offer. Digg's ranking system is collectively determined by its users.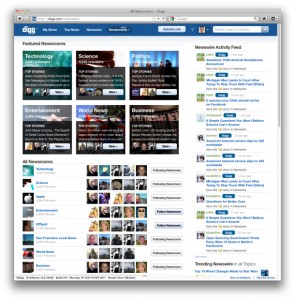 Digg content ranges from rich-media like videos and images to blog posts and news articles. All of the content posted on Digg is submitted by their community. Once it is submitted, other people see it and "Digg" the content that they like.
The more people that "Digg" a post, the higher it will be rated. If it receives enough "Diggs" it will be promoted to the front page for millions of users to see.
According to Digg.com, "We're committed to giving every piece of content on the web an equal shot at being the next big thing." Like other social media sites, Digg allows for a conversation to evolve around the content.
Users can comment on posts, reply to each others comments and even "bury" content that they don't like. This interactivity allows users to actively engage the Digg community and collectively determine popular content.
Digg's goal is to to promote a "conversation and provide tools for our community to discuss the topics that they're passionate about." The Digg community is set up to encourage fresh content that is unique and interesting to users.
So check it out! The site is well-designed and easy for users to follow.