Rescuing 2009 – Your strategy to be ready for the recovery
Published June 30, 2009 1:51 pm by Scott LoSasso
Categories: Analytics and performance optimization, Digital media strategy, The business of marketing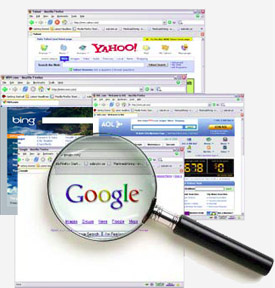 The first half of 2009 has been hell for just about every industry. For a lot of people it has been about damage control, cost cutting and simply figuring out how to get through this. So it has been a tough year to try anything new.
But don't write off 2009 just yet. There is an important opportunity in all of this that you should think about.
Marketing is changing so fast right now that most marketers have not really developed their search engine marketing and online lead generation expertise.
That means that lots of companies will be doing their 2010 planning without any real experience in potentially the most productive and measurable strategy available to them.
So once again, online will be secondary to the traditional planning model. This could prove to be a HUGE missed opportunity when the economy improves.
Your buyers research their purchases online and they start with the search engines. The easiest way to capture these searchers is through search engine marketing – Pay per click and website optimization. You can respond specifically to what they are searching for and take them to targeted online content.
It is an incredibly simple idea, but behind proper execution is a strategic, methodical, science – it is not simply buying clicks to your site. And if you do it right, it works. We see it every day with programs producing results for clients in a variety of industries b2b and consumer.
There is no question that when the economy turns up, marketers that have learned how to leverage online lead generation will steal market share from those that have not. With close to 100 million searches on Google every day, how could it be any other way?
It is not too late to run a pilot program this year and gain experience that will be critical to your 2010 planning.
A simple keyword report can tell you a great deal about the opportunity and how your competitors may be gaining ground on you. Look at your core keywords, the frequency of search on each, competitive advertisers bidding on the words and a ranking of where you currently show up.
Don't go into next year with one arm tied behind your back – get your program started now. This could be the best thing to come out of 2009.
Scott LoSasso is President of LoSasso Advertising Inc., a Chicago based interactive agency specializing in content marketing strategies and customer acquisition for leading B2B and consumer brands. (See more posts by Scott)