Pinterest: For Business, Pleasure or Both?
Published March 14, 2012 9:42 am by LoSasso
Categories: Branding, Digital media strategy, Social media
What is "pinteresting" about Pinterest is that this two year old social bookmarking website is steadily gaining momentum as the second most visited traffic driver on the internet behind Google! Yet, it is seemingly misunderstood by many as a digital cork board dominated by females with little use other than to post shopping must-haves and wants, or to exchange recipes.  Quite the contrary in fact, while females do seem to make up the majority (87%) of its users there are many businesses, men and women alike who find its benefits reach far beyond recipes.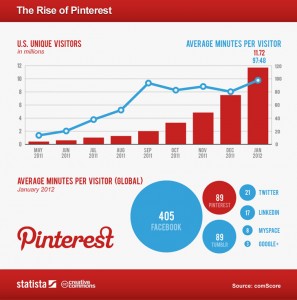 Last year Time Magazine declared Pinterest among its top social media websites to watch out for in 2012 and it would seem that their time has come. Ben Silbermann the founder of Pinterest out of West Des Moines, Iowa knew it would be big, but this is just the tip of the iceberg. Pinterest's mission statement is to, "connect  everyone in the world through the 'things' they find interesting" and while the concept seems broad it is clearly taking shape by incorporating not just the "things" that interest us but the people, places, concepts, ideas and companies we love.
Useful Ideas
Companies big and small such as Whole Foods, Etsy and Real Simple to name a few, are jumping on board the Pinterest train paving the way for the website to be used as a fabulous tool in addition to personal interests. From product promotion to customers, to teamwork through collaboration by engaging employee's participation are just two ways Pinterest can add value and contribute. For instance, "Ideas for a Company Outing" might be a board a company could build to allow its employees to voice their PIN ideas visually on a few of their favorite places or activities others might enjoy. More stimulating than circulating an office email with links embedded, why not link pictures to spark a like, comment or repin?
Things to Keep In Mind
Building a profile will help connect people and businesses alike to their communities and strengthen their reach, however there are a few things to keep in mind.
1. Etiquette: Just as the other aspects of human interaction demand certain pleasantries, so does social media. When it comes to sharing, commenting, pinning and repining it is polite to thank the original poster and to credit your sources. Above all, BE NICE! As outlined by Pinerest on the 'Pin Etiquette' portion of the website, their number one rule is "be nice." After all the object of the game is to generate a community where people's likes are valued and positive energy is promoted.
2. The Risk Factor: Limit the liability of risk when posting images you do not own by either asking the owner's permission or in most cases, accurately giving credit where credit is due. The images are vibrant and attractive to the eye but nine times out of ten people are too busy pinning to take the time necessary to cover their bases. The Pinterest disclaimer is very pronounced in that WE not them are liable for the images we post and the repercussions therein. "You acknowledge and agree that, to the maximum extent permitted by the law, the entire risk arising out of your access to and use of the site, application, services and site content remains with you"
In a recent article by Advertising Age, How Brands can use Pinterest without breaking the law Attorney Brian Heldelberger outlined how to navigate the site as a brand or company with limited risk. He points out that "a brand or business will be more attractive to potential plaintiffs" given the risk of copyright infringement than an individual would be. Given that fact, it is best as a brand to post images that have either been "appropriately licensed" or that company itself owns. An increased image library can help companies drive traffic to their own page without any risk of liability. There are many ways to effectively manage a Pinterest page for a business and successful companies are taking advantage of this opportunity, but it is highly recommended to do so with care.
As Pinterest continues to grow some may argue that the legality issue over images raises red flags ultimately limiting the long term stamina. Yet, this giant is not going anywhere anytime soon and seems to be generating more buzz by the minute. While it is important to call attention to a few cautionary issues remaining, there is no doubt that this website is a fabulous tool for business, branding and personal pin interests alike.