Marketing Mayhem: Overhauling Your Marketing Strategy
Published March 31, 2011 3:41 pm by LoSasso
Categories: Branding, Digital media strategy, Social media, The business of marketing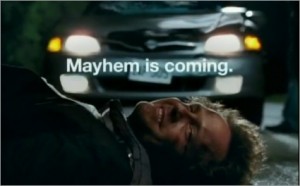 We all know them, the mascots of large corporations — the creepy King of Burger King (since retired), Flo with her bump-it of Progressive Insurance, Mayhem (a personal favorite) of All State Insurance and now "Peggy" of Discover Credit-Cards in his Coogi sweater (tapping into call-center nightmares and a touch of xenophobia).
The latter two fall into a category of marketing that highlights the awful aspects of life or customer service as the antithesis to their great services.  Domino's pioneered the first giant step into this category creating ads emphasizing how truly terrible their pizza was.
Instead of denying the problem, Domino's tapped its customers' complaints and made the necessary improvements. Then they televized it with customer pictures from the dark ages of pizza delivered with all the toppings stuck to the box, juxtaposed against customer pictures of the next generation pizza used in their national ad campaigns. You know you've got smart PR people working for you when you can talk into Oprah's third ear, Gayle King about a pizza chain.
How does this affect change in other industries? I'll sound like a broken record, but social media is the golden ticket. We're getting back to basics where the customer is always right and away from the old school of marketing where the customer was merely a vessel to imbibe what we poured out.
Complaints can be addressed in real time; they can even be tracked to locate the person complaining so it's easy to provide them with the nearest available store, repair center or customer service outpost. Change is scary and it's especially scary if it's what's holding your company back from its full potential. In the case of Domino's, a complete overhaul was essential to garnering larger market shares and new customers. Social media carries the conversation over from that half minute ad into the full monty of Twitter and Facebook and enhances that almighty bottom line.