Interactive Marketing 101: Social Media in the Classroom
Published August 23, 2010 11:05 am by LoSasso
Categories: Digital media strategy, Social media, The business of marketing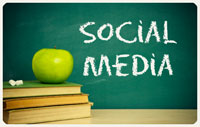 Our nation's colleges are finally stepping it up and embracing social media as viable classroom material.  At LoSasso, we've long believed that there are many opportunities for businesses to expand online through interactive marketing methods. It seems like Academia is finally taking the plunge.
No ROI? No Service
Many online marketing practices have been ignored for years due to a fear over return on investment.  Executives were hesitant to spend marketing dollars on Tweets and Facebook pages without knowing the value of these projects. With the arrival of increased social metrics, corporate marketers have shaken off these initial reservations and begun implementing social media, search engine optimization, and pay-per-click campaigns in creative and effective ways. For example, the recent "Old Spice Guy" social media campaign has been a boon for Proctor & Gamble's odor-ific brand, elevating both awareness and sales.  Given this type of success, business schools are adding interactive marketing to their course offering.
Big Picture Marketing
According to an article written by Alyson Shontell of The Business Insider: War Room, at least six schools, including Harvard and Columbia, are adding social media graduate programs.  The University of Michigan's business school offers a course aimed at helping students gather information online in order to make sound business decisions.  As Shontell points out, many courses on new media completely snub traditional research means, only allowing the citation of online sources. Sites like Twitter, Facebook, LinkedIn, and Foursquare are providing an abundance of valuable marketing information daily and it seems that tomorrow's leaders will be prepared to harness this data.
Why Did it Take So Long?
It's no secret that billions of dollars are earned through online ventures. So why did it take so long for our nation's top universities to embrace digital marketing courses?  First off, this new era of marketing has no handbook. Many professors are learning to apply traditional marketing concepts to new media. These kinds of changes in the curriculum take time. It's when professors and administrators merge their knowledge of core marketing principles with a student's casual use of social media that the real magic happens.
Secondly, many schools were waiting to see if there was a need for new media courses. If businesses weren't using Twitter to reach audiences, why teach it? Social media marketing is no longer seen as a "fad" and instructors have plenty of case studies to pull from.
It's an exciting time to be in marketing. Due to the nature of digital communications, detailed data on consumers and audiences is available like never, allowing marketers to implement actionable data in client campaigns. With increased infrastructure to teach these new tactics, the industry will continue to generate fascinating and effective campaigns.
For More Information: How Business Schools Are Getting In On Social Media, by Alyson Shontell.