Email Marketing: Expanding Online Presence
Published August 17, 2011 2:41 pm by Jessica Schanta
Categories: Digital media strategy, Integration at its best, The business of marketing
Marketers can combine their email, social media and mobile efforts to boost ROI. Dianna Dilworth writes that "[b]y integrating email capture tools on a Facebook page, marketers can create a presence in the social world and tie it to a channel with more opportunities to drive sales." (Direct Marketing News, 8.2011, P. 14) The good news is that loyal customers are willing to be involved through multiple channels – so why not incorporate email into the marketing mix?
Email Strategy: Enhancing Viral
If you think about it, email addresses are used to sign up for almost everything (including social media). Consumers can even join email lists through a simple text message."[…E]mail is the most profitable marketing tool that marketers have," says Dilworth. (Direct Marketing News, 8.2011, P. 14) Marketers hope that the spread of email content will influence consumer engagement and increase their viral capacity.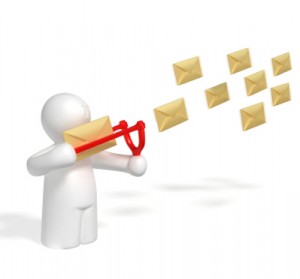 E-blasts and e-newsletters are a great way to monitor the content that is being viewed by your audience. Not everyone is able to check social media status updates and posts by brands as frequently as they like. A customer may "like" your brand on Facebook, but marketers must connect conversationally with consumers via comments or email feedback if they want measurable benchmarks.
Mobile ROI: What are you measuring?
Mobile data usage centers around checking email, viewing social media outlets and purchasing products. Marketers get the most from their email campaigns if the traditional and social aspects of marketing are merged.
Warning: Irrelevant content and high-frequency email can have a negative impact on consumers. If you choose this route, prepare to get many unsubscribers.