'Cwinger' Ads Link TV Viewers to the Web
Published April 21, 2009 2:33 pm by LoSasso
Categories: Digital media strategy, Social media, The business of marketing
The good-ole days of audience members sitting around the living room captivated by TV programming are gone. Current viewers surf the net, talk on their cell and send text messages while watching their favorite programs on TV. This is especially true for viewers of the CW's "Gossip Girl."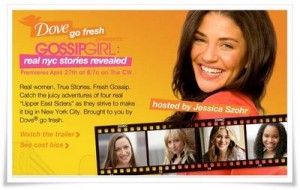 Ad Age reports that the CW will air a new breed of ads next week that target this media hungry audience. The "cwingers" ads stimulate the viewers to move from TV to the web and then back to TV.
Unilever's Dove is the pioneer brand utilizing this targeted approach to market Go Fresh Burst Body Wash to 20-something women who actively partake in multi-media participation such as this.
The campaign will consist of video vignettes about four real 20-something women whose lives once resembled the characters on "Gossip Girl." The first part of the campaign will air during the program itself, and the audience will be directed to watch the rest of it online.
According to a recent study of media-consumption cited in the Ad Age article, consumers between the ages of 18 and 34 consume more online media than their baby boomer counterparts between the ages of 45 and 54. With fans relying more on web, video-streaming sites and mobile devices to view their favorite programming, marketers must find a way to zip between mediums without skipping a beat.
As media patterns continue to shift, campaigns like this one will continue to pop up with increasing frequency. As a result, marketers will undoubtedly continue to experiment with campaigns linking TV and web-based programming. The key to a successful campaign will be generating enough interest in the 90-second commercial to draw consumers to the website and then back to TV. This is a tall order for an audience being bombarded by content from numerous media sources simultaneously, but if this campaign is successful it will be interesting to see how other brands will try to duplicate their success.