6 Useful Google Labs Applications to Increase your Efficiency on Google
Published November 10, 2009 1:03 pm by LoSasso
Categories: Digital media strategy, The business of marketing, Web and UX trends
Google Labs is an experimental branch of Google and Gmail where engineers test out wild and crazy ideas and solicit feedback from users who try out the experiments. Note, Google Labs is just the first phase of an extensive product development process, so the experiments are not guaranteed to make it onto Google.com
Below are a list of 6 Google Lab Experiments and Settings that are worth trying out. These settings are not only creative, but also very useful.
Google Labs Experiments
1. Google Social Search allows you to more easily find blogs, reviews and other public content from your Gmail chat contacts and your broader social circle as well.

2. Google Trends allows you to enter up to five topics and see how often they've been searched on Google. The experiment also shows how frequently your topics appear in Google News stories and the geographic regions where the stories are being searched.
Trends also analyzes a portion of Google searches to calculate how many searches have been made on the terms you enter relative to the total number of searches done on Google over time.
In addition, Hot Trends allows you to see a snapshot of fast-rising searches for different points of time. The iGoogle Gadget even allows you to track these viral trends in iGoogle.
Gmail Labs Settings
3. Undo Send enables you to stop messages from being sent for a few seconds after you hit the send button. There  is only a short time window, but it is definitely useful for those situations when you realize right away that you need to unsend a message.
4. Don't Forget Bob is another cool Gmail setting. This setting suggests more people for you to include in an email list based on the groups of contacts you email most often. It prevents you from accidently leaving someone off of an important email.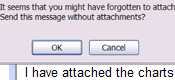 5. Forgotten Attachment Detector prevents you from sending messages without attaching relevant attachments. This setting prompts you to attach a file when you've mentioned an attachment, but forgotten to add it.
6. Multiple Inboxes is similar to Twitter lists, in that it allows you to add extra email lists to your inbox. The new threads can be based on labels, starred messages, drafts or any search you want. For example, you can create separate inboxes for coworkers, friends and coupons.  Categorizing your inbox in this way will reduce clutter and increase efficiency.
These settings are just a few of the great options Google has to personalize your email experience. To access Gmail Lab Settings, simply click the green lab flask in the right corner of your Gmail page next to the Settings and Help icons and enable the settings you find useful.