4 ways the Google text ad change could impact you
Published April 1, 2016 2:55 pm by LoSasso
Categories: Analytics and performance optimization, Digital media strategy
Last month, Google confirmed it will no longer run text ads on the right side of the search results—an announcement that sent advertisers everywhere into a tizzy. Instead, as many as four text ads will display above the organic listings and as many as three text ads will appear at the bottom of the page. Product Listing Ads and Knowledge Graphs are the only content types that will still appear to the right of search results.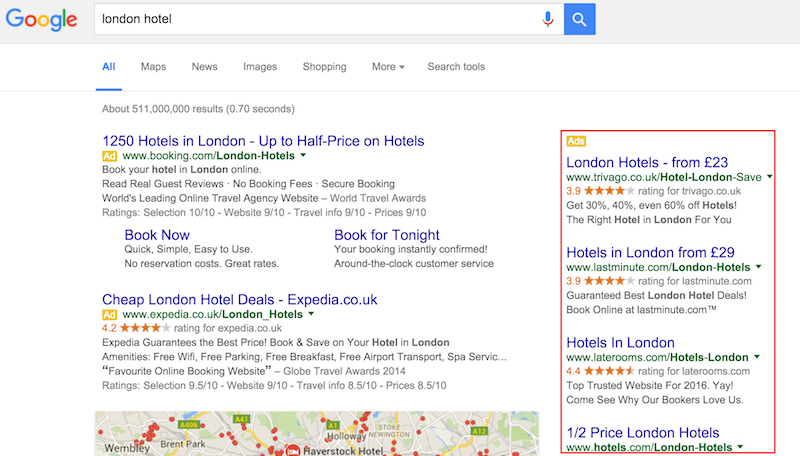 Ads on the right in the red box no longer appear in Google searches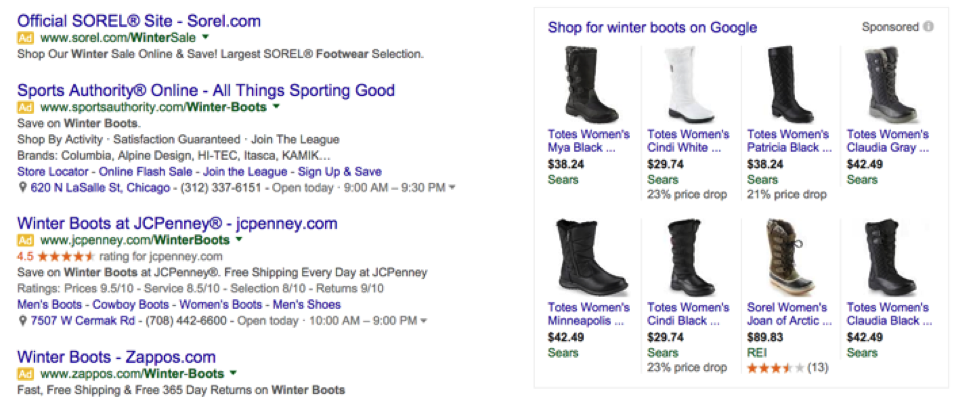 An example of Product Listing Ads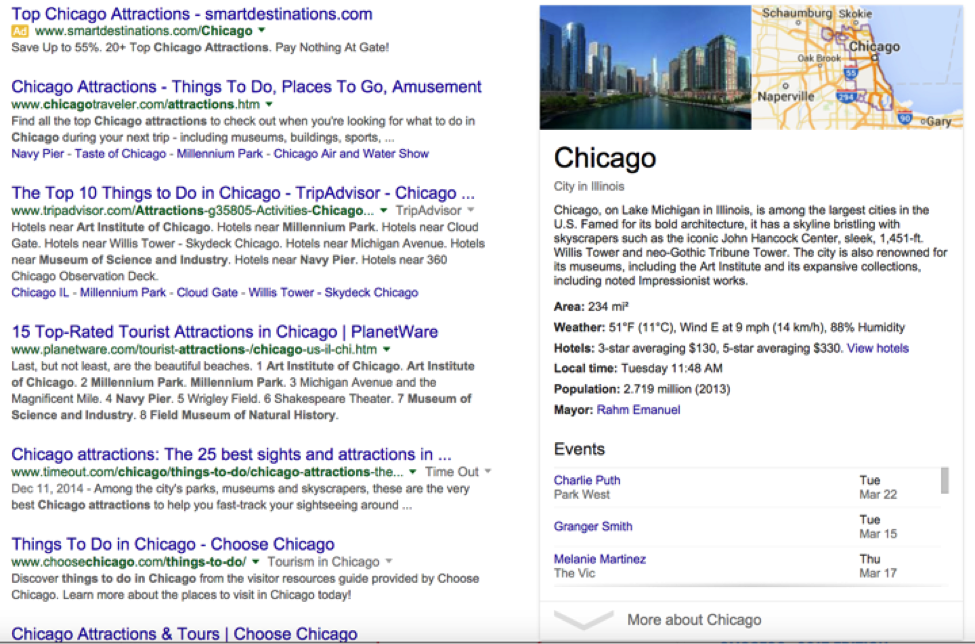 An example of a Knowledge Graph without ads; occasionally, ads may appear in the Graph.
So what does the change mean for advertisers like you? We're breaking down the top four likelihoods:

Many industry experts predict that the average cost per click will skyrocket as a result of fewer ad spots and steady (or increasing) advertiser competition. The upside: Increased costs might not apply across the board. So far, we've seen no or negligible increases to our clients' CPCs. Increased competition, however, is likely in the coming months, particularly in what Google considers "highly commercial queries" (e.g. travel lodging, car insurance). This makes it even more important to be targeted and strategic with your paid search efforts. Limit keywords per ad group to those very closely related and use the most relevant ad copy and landing pages possible. Leverage all the applicable extensions for your campaigns.

Ads that appear at the top, with the added fourth position, offer the potential for greater visibility. Thus far, we've seen our clients' ads, on average, shifting toward higher positions. For bid-to-position types of accounts, it will be essential to watch for impact resulted from shifted positions.

Although paid and organic results are completely independent from one another, this change could make SEO a tougher sell due to more ads on the top pushing organic content down. After the change, there are almost no organic listings (besides ads and maps) above the fold. The impact is even more obvious on mobile. This change is by no means "the death of SEO" as some critics claimed, but it certainly opens SEO for greater debate and calls for an emphasis on SEO best practices (such as having compelling content) that have added benefits.

We can only speculate the reasons (revenue?) that prompted this update, but one of the working theories is that it was to improve user experience (e.g. less visual clutter, more streamlined experience between mobile and desktop). SEO experts certainly have their take on this (although I would imagine greater emphasis on optimization of metatags, schemas and all the other experience-enhancing features); but within paid, I do see the benefit of having a cleaner and more relevant SERP. Aggregators' sites are likely to be hit harder than those who put in the hard work to optimize their ads and landing page content. And that's good news for users and advertisers alike.
Changes like this one are often frenzied in the digital advertising space. But a healthy, balanced approach to digital marketing (good content, a solid social media strategy, targeted paid efforts and dedicated SEO) can help you conquer the changes head on.