From Future Prospects to Active Buyers
When businesses are trying to drive sales, there is an understandable tendency to focus marketing efforts on bottom-of-the-funnel activities, such as PPC advertising. It's attractive, because prospects are deep in the process of making a decision about what they are going to buy and from whom they'll be buying. But, while targeting the bottom of the funnel is important and productive, focusing all your efforts here can undermine the long-term performance of your program.
Full-funnel Focus to Maximize Performance
Without top-of-the-funnel efforts focused on increasing awareness of your brand, and high-value, mid-funnel content for nurturing relationships with prospects and shaping the buying decision, your brand may be overlooked completely. This can be from a simple lack of awareness; a lack of trust; or because competitors have influenced the purchase decision in a way that has knocked you out of contention before you were even in consideration.
Get the Balance Right
We developed the LoSasso Digital Targeting Optimizer to help maintain balance and increase performance in the digital programs we manage. The Optimizer is a simple tool to help make sure we focus on prospects throughout our clients' buying cycle—converting active searchers, while also nurturing mid-funnel leads and exposing future prospects to the brand.

Using the Optimizer
The Optimizer is a 6-section grid. Top, mid and bottom sections of the traditional purchase funnel are divided into two tracks—for online Display and Search. Tactics used in each section vary based on the complexity of the product being promoted and the length of the buying cycle, but the info below is a good reference for how we typically focus our efforts.
---
Display Track
D1: Top of the Funnel— Attracting Future Prospects
People found here are potentially great prospects, but they aren't currently looking for a solution. We target them with industry trends, lifestyle or other high-level content that gets their attention and helps build awareness and positive associations with the brand. Traditional branding campaigns can also apply here. Click-through is likely to be low, but repeat exposure to the brand and key differentiators will help enhance mid- and lower-funnel activities in the future.
Goals
Increase awareness
Build positive brand association
Establish trust
 Channels/Tactics
Targeted display
Contextual display
Video pre-roll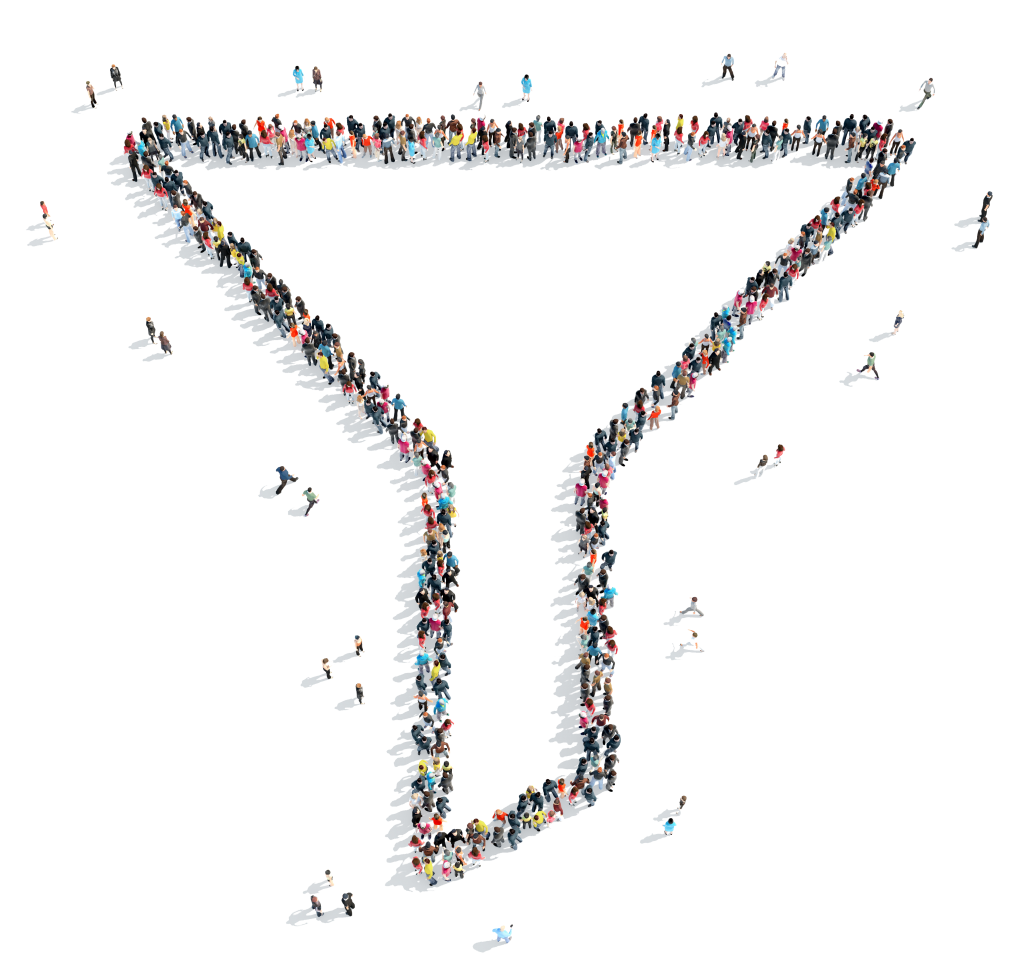 D2: Mid Funnel—Engaging Emerging Prospects
These prospects have a need and interest in the product category, but aren't actively searching. This is a great time to capture attention with high-value content that brings focus to their upcoming search. Examples: 5 Game-Changing Trends in X; Top 10 Things to Know if You're Thinking About X; New Ways to Boost Employee Output with X. Optimally, these should be gated, high-value content pieces—useful or interesting enough that a prospect will provide an email address to get one. Mid-funnel lead capture will allow you to stay in touch over time with a nurture campaign that shares other helpful information—and what's unique about your solution.
 Goals
Build awareness and brand image
Establish thought leadership and build trust
Capture leads for nurture
Channels/Tactics
Targeted display
Contextual display
Video pre-roll
Paid social (e.g. targeted LinkedIn or Facebook ads)
A Note About Advanced Targeting for D1 and D2
Direct ad buys on industry or lifestyle-related websites can be very effective, but at this stage, some of your best prospects may not be there. Good news: Today, if you know who you are looking for—by industry, geography, job title, interests or attitudes—you can target the audience, no matter where they are online, using an ad network, such as the Google Display Network (including YouTube), or a broader programmatic ad buy. Look-alike audiences can also be built from CRM customer data or by tracking which types of customers most often convert on your website.
D3: Bottom Funnel—Converting Active Prospects
Prospects at the bottom of the funnel are deep in the buying process. If you have captured their attention and driven them to your website, but they haven't converted, retargeting them with display ads based on what they've engaged with on your site is a great way to stay top-of-mind while they are narrowing down to a final buying decision. Product-specific information, key differentiators or promotional incentives can be used to re-engage and move the prospect to the final goal.
Goals
Re-engage website visitors that did not convert
Deliver qualified leads to sales/dealer
Convert sales
Channels/Tactics
Display retargeting
Video pre-roll retargeting
---
Search Track
S1: Top of the Funnel—Enabling Early Research
Prospects here have identified a possible need and have begun searching. They are building a list of options to choose from—looking at various solutions and the brands that can provide them. We target here with general search terms and content designed to help them understand the big-picture considerations for the product category, all while laying the groundwork for our solution. Big-picture, high-value content can be leveraged to shape the buying decision and capture leads.
Goals
Elevate brand image and product awareness
Attract early searchers to help shape their research process and buying parameters
Provide helpful information—build trust
Secure your product/service as an addition to prospects' prime consideration list
Capture leads for nurture
Channels/Tactics
S2: Mid Funnel—Leveraging Active Research and Narrowing
In this phase, prospects are in active research mode and using what they find to start narrowing their choices. Keywords searched here indicate they are making comparisons between specific solutions and products. Still a good time to capture a lead for nurturing, valuable information will help prospects understand the key differentiators between various brands and their solutions. You can also offer trade-in or big picture pricing information with tools like build-a-quote, as appropriate for your industry.
Goals
Highlight key brand differentiators
Capture leads for nurture
Channels/Tactics
S3 Bottom Funnel—Landing Hot Prospects
Prospects at the bottom of the funnel have narrowed down to a short list of options. Search here is about making sure they haven't left any stones unturned and moving to a final decision. These are product-specific searches or searches that offer confirmation that the searcher is getting a good deal and not making a mistake. Finding a way to share satisfied customer reviews can be powerful, as well as other special incentives to trigger the final decision. If they haven't already made contact, they need to be connected with a dealer, distributor or other direct sales options.
Goals
Connect prospect with sales/dealer
Reiterate reasons to buy
Provide incentives to trigger action
 Channels/Tactics
---
Bottom Line—It's All About Balance
While it is highly effective to reach people who are actively searching at the bottom of the funnel, it's important not to get boxed out by savvy competitors engaging your prospects earlier in the buying process. No two programs are alike. Specific goals and underlying competitive situations change, but using a simple tool like the LoSasso Digital Targeting Optimizer is a great way to make sure you cover all the bases—keeping focus on program balance for optimum performance over time.
What do you think? Are top and mid funnel activities worth the time and investment?