I was recently a guest speaker at the 2018 Media Growth Summit in Chicago, where industry leaders from the b2b publishing industry gather to collaborate and learn. If you have read the book Who Moved My Cheese, this is a prime example. The room was filled with executives who work in an industry whose cheese has definitely been moved. I was asked to speak on the topic of digital transformation and evolving strategies for audience development and monetization—a.k.a. the mover of the cheese. My perspective is somewhat unique because I own an advertising agency as well as a digital publishing property, so I view b2b media from the perspective of both the buyer and seller. I shared what we have learned with our media property PracticalMachinist.com as well as my thoughts on the evolution of b2b marketing, media and publishing. As I looked out across the faces in the room, I saw a range of reactions—excitement, curiosity, doubt, and one I would describe as an exhausted "oh shit."
The pace of change in media consumption is extremely rapid, and overall, b2b publishing has been slower to evolve than some other forms of media. While it may be a difficult change for some, there is fantastic opportunity for companies that embrace a modern approach. Publishers such as DigiDay, Mic or Mashable, are built on strategies that can be applied to any audience—consumer or b2b. They operate from the perspective that a publisher's greatest asset is the understanding of, and ability to serve an audience—regardless of where the audience is at any given moment.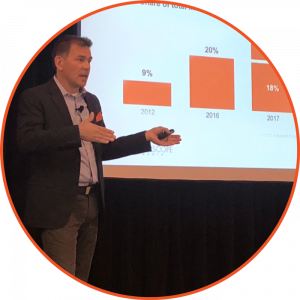 Instead of delivering a product, like magazines, email newsletters and website impressions, the business is about creating meaningful engagement by connecting the right content to the right audience where they learn and live. Print will still play a critical role – a great print ad can stop a reader in their tracks like very few things can. However, I am suggesting that b2b publishers must leverage their knowledge and data to expand the value they bring to their advertisers. Advertising budgets are not growing rapidly, and clients need to reach an audience that is using new tools and more channels. Owned properties including magazines, e-newsletters and publisher websites are still part of the mix, but every day, millions of people across every industry read articles from the Wall Street Journal, Fast Company, Bloomberg and hundreds of other publishers in their social feeds, on news aggregators and across thousands of websites. B2B publishers can dramatically expand their impact for advertisers when content is no longer limited by their circulation list, website visits or email databases. By adding new channels and strategies, b2b publishers can reach a much larger audience, target much more accurately and deliver more value to advertisers than ever before.
Consumer publishers have moved in this direction much faster than trade publications. It begins with a digital strategy for audience development. Publishers must leverage their data and aggressively build competencies in media buying, social media, analytics, data modeling and marketing automation. In many ways it is similar to what has happened to agencies. Our agency has completely retooled over the past decade. Not only has it been necessary, but it has been great for our business. There are huge growth opportunities for publishers who learn to employ the same strategies that our media buyers and digital strategy teams use to distribute content and place ads.
Over the past several years, the call for brands to "think like publishers" has been a common theme at marketing conferences. Today, publishers need to think like agencies. There is high demand for quality content among b2b advertisers, and because of the tremendous value of their editorial expertise, publishers are well positioned to deliver it. Combine that with the ability to reach their audience across the digital ecosystem and pubs can unleash new value and revenue streams. Clients and agencies will move substantial media dollars to publishers that can execute integrated content marketing and advertising programs.
As a final thought—I have heard skepticism about these ideas from some traditional b2b publishing operators. A common concern is that digital is trading dollars for dimes. It is not true. Google and Facebook have amassed nearly 25% of the global advertising spend and now have over 60% of the digital ad spend. This has happened because the audience has moved, these channels work and they are measurable. The media landscape will continue to change, but learning how to leverage your data and expertise to turn Facebook, Google, LinkedIn and other digital outlets into your partners is a necessary next step for publishers across all industries.
Scott LoSasso is a Chicago based business owner and entrepreneur. Since 1989 he has owned and managed LoSasso Integrated Marketing, a mid size advertising agency based in Chicago. He has also established Hyperscope Media, a digital media services and consulting business and www.practicalmachinist.com, the largest digital publishing property in the metalworking industry. Across these organizations, Scott employs 45 people and works across a range of industries including manufacturing, agriculture, construction, healthcare, technology and food and beverage.