When it comes to bidding on branded PPC campaigns, many marketers find themselves asking the same question: Why?
If your company already holds the top organic results for your brand's name, it might seem like a waste of time and money to bid on branded terms. However, this strategy can actually have some pretty sizeable benefits for your company's image, traffic and sales. Plus, it can help fortify you against your competitors.
Below are five reasons to invest in branded PPC campaigns
1. You can be the true #1 result for your brand
Search Engine Land reports that Google changes its algorithms a jaw-dropping 500 – 600 times a year. While most changes are minor, some have become legendary in their organic consequences (we're looking at you, Panda and Penguin!).
While SEO is essential for the health of a website, it's never a guarantee that once you're in the #1 spot, you'll stay #1. One way to ensure you have top billing? Branded PPC campaigns. These campaigns are incredibly effective at directing eyeballs to your brand and your website as long as you continue to pay (and create high-quality, relevant ads).
Worried about branded PPC cannibalizing your organic traffic? Google has conducted studies that show this isn't the case. Plus, PPC ads give visitors another chance to click through to your site over competitors.
2. You can quickly promote new products or services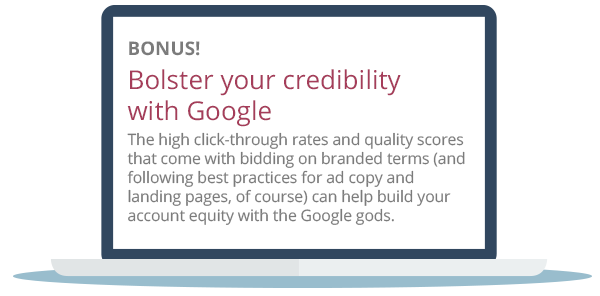 It goes without saying that launches can be time-consuming, and there are a lot of moving parts—adding new content to your sight, creating promotional materials, and the myriad of other marketing materials.
If you're like most other companies, you're probably anxious to make some sales!
Paid search gives you the unique opportunity to skip the wait that comes with building organic traffic and instead quickly find a perch at the top of the SERPs for both branded and non-branded terms around a new product.
Additionally, it ensures you're showing up at crucial moments in your prospects' buying cycle, when your visitor wants to download an asset, book an appointment or make a purchase.
3. You can lead the horse to water
While you should certainly make your best efforts to win at the SEO game, paid ads give you the chance to really market and craft a message that will grab the attention of your searchers and entice them to your site. Since people searching for your brand are probably already in the sales cycle, good PPC landing pages that follow best practices are optimized can accelerate the process and get the user to complete a conversion more quickly and more frequently.
Another advantage? Research shows that paid traffic can convert more effectively than earned traffic.
4. You can keep competitors at bay
Your savvier competitors will be on the lookout for opportunities to get a leg up on you, including by using your own brand. The typical strategy for competitors is to bid on your branded terms and create a nice, shiny ad directing searchers to their website over yours. Affiliates, too, might try to capitalize on your brand's credibility to drive traffic to their own sites.
For example, the search results for iPhone 6s yield two PPC ads for companies other than Apple.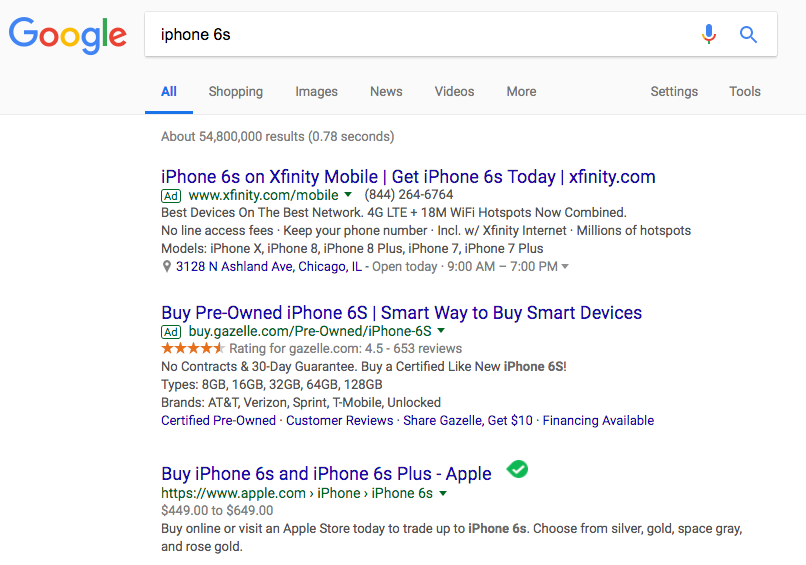 One way to combat this is to beat your competitors to the punch. The chances that they'll try to outbid you on your own branded terms are small—people looking for your brand will be expecting your website, and clicking through to a competitor is a bad experience which could greatly diminish your competitors' quality scores.
In other words, it's simply not worth it for them.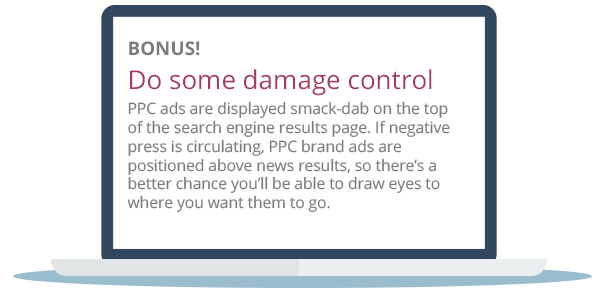 5. You can try new messaging in a safe outlet
The beauty of digital is that it provides a low-cost playground where you can test, tweak and perfect different types of messaging. Unlike creating a billboard and eating the losses if your messaging falls flat, the nimble nature of the digital landscape allows you to get a lot of eyes on—and a lot of data about—your new brand messaging quickly.
If it works, you can take steps to use versions of it in other channels. And if it doesn't? You can remove the ad and try something else and with minimal losses.
Any other upsides you've experienced with branded PPC campaigns? Let us know in the comments section below.