5 reasons why your business should invest in SEO
1. Ignoring SEO will impact your bottom line
2. Use SEO to get ahead of your competition
3. Attract more qualified traffic and increase conversion rates
4. Add SEO to diversify your marketing strategy
5. An effective SEO strategy builds brand visibility, credibility and authority
Anyone who has tried making the case for investing in SEO usually hears the same three excuses: it takes too long, is too unpredictable or PPC is better because it's easier to measure direct ROI. But what if I told you that Google processes more than 100 billion searches per month?
Prior to the internet, consumers learned about products and services via the radio, television, print ads and seeing them in stores. Now we live in a digital age where every question can be answered in milliseconds with a simple search. Based on this shift in behavior, it baffles me that businesses are not concerned with improving their search appearance.
Before I share why ignoring SEO is bad for business, you first need to understand what SEO is and how it works.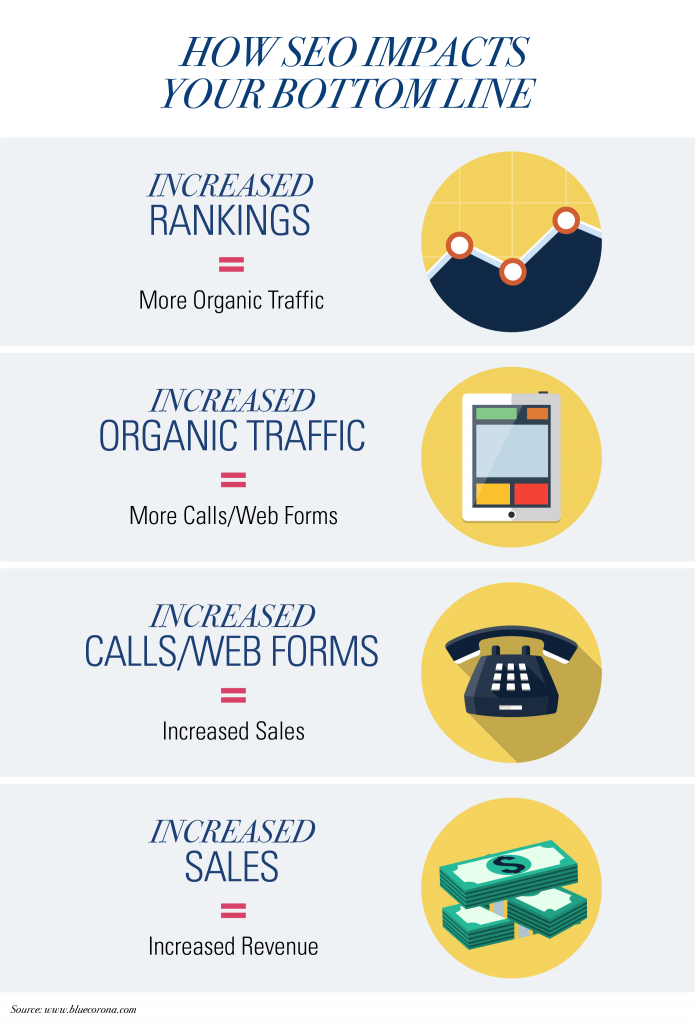 What SEO is and is not
SEO, or Search Engine Optimization, is a collection of best practices to help your product and/or service get discovered by search engines and appear on the search results page. In a nut shell, when you search for information on Google or Bing, your product and/or service should show up.
SEO is NOT keyword stuffing. When SEO was first introduced, it was common practice to strategically stuff a bunch of keywords on your site and within site code to increase site traffic. The assumption was the more a keyword was mentioned on the page, the better the content. Take this approach with your SEO strategy and your site will most definitely be penalized.
Now search algorithms are a mix of ranking factors including domain authority, links to your site, local search, social media, content quality, relevance, site quality, user experience, etc… and yes, your website needs to address them all.
How SEO works
Search engines like Google and Bing are answer engines. The job of these search engines is to provide a list of websites that are the most useful to the searcher and then rank that list according to relevance and trust. Therefore, SEO is a process of proving to the search engines that you are the most useful, authoritative and trusting site for a given search term.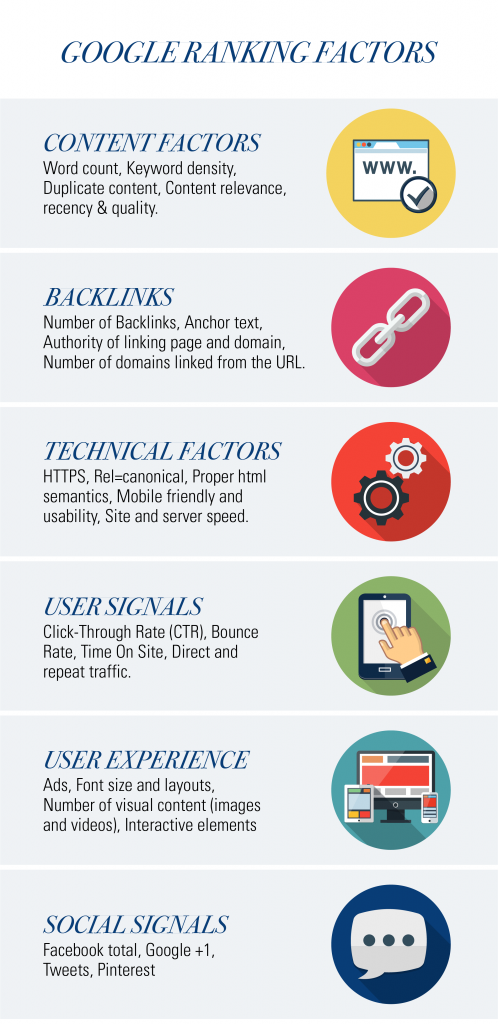 While your search appearance is determined by 200+ internal and external factors, SEO can ultimately be broken down into three main categories:
3 key elements to a strong SEO strategy
 Probably the biggest mistake companies make is trying to get a single page to rank for multiple topics. Not only will this confuse the user with mixed messages, but it will also confuse search engines. Therefore, optimize each page of your site for only one topic.
Plan and execute an effective content strategy
You cannot assume that what is highlighted on a site page is what a potential customer is searching. During your keyword research, tailor your content by identifying opportunities based on search volume, competitiveness and business goals or objectives.
Build reputation and authority
Search engines are continuously updating their algorithms to provide a better user experience for the searcher. Over the last several years, Google has placed more emphasis on a website's E-A-T – expertise, authoritativeness, and trustworthiness- when ranking search results. If your site does not do a good job proving to Google that it meets these three qualities, organic traffic will decline. This was particularly true in August with the "Medic" Update. So how do you achieve E-A-T? By executing SEO best practices and following Google's Quality Raters' Guidelines.
Now that you have more background into what SEO is and how it works, you can better understand why investing in SEO is vital to the growth of your business:
5 Reasons why your business should invest in SEO
1. Ignoring SEO will impact your bottom line
According to a recent study, 93% of online experiences begin with a search engine. If your site is not highly ranked, your target audience will not find you. If your audience cannot find you in a search, you can expect lower sales.


Additionally, without a designated SEO person or team, your business is unprepared for future search engine updates. One algorithm update has the potential to break your business and it might take years to recover. Staying on top of best practices and executing a solid SEO strategy minimizes your risk of a huge traffic drop and thus sales drop.
Don't end up like that business.
2. Use SEO to get ahead of your competition
Basic business practice: evolve with the times or get left behind. For every search term or phrase your competitors rank higher than you for, it's that many more potential customers you are losing to your competition.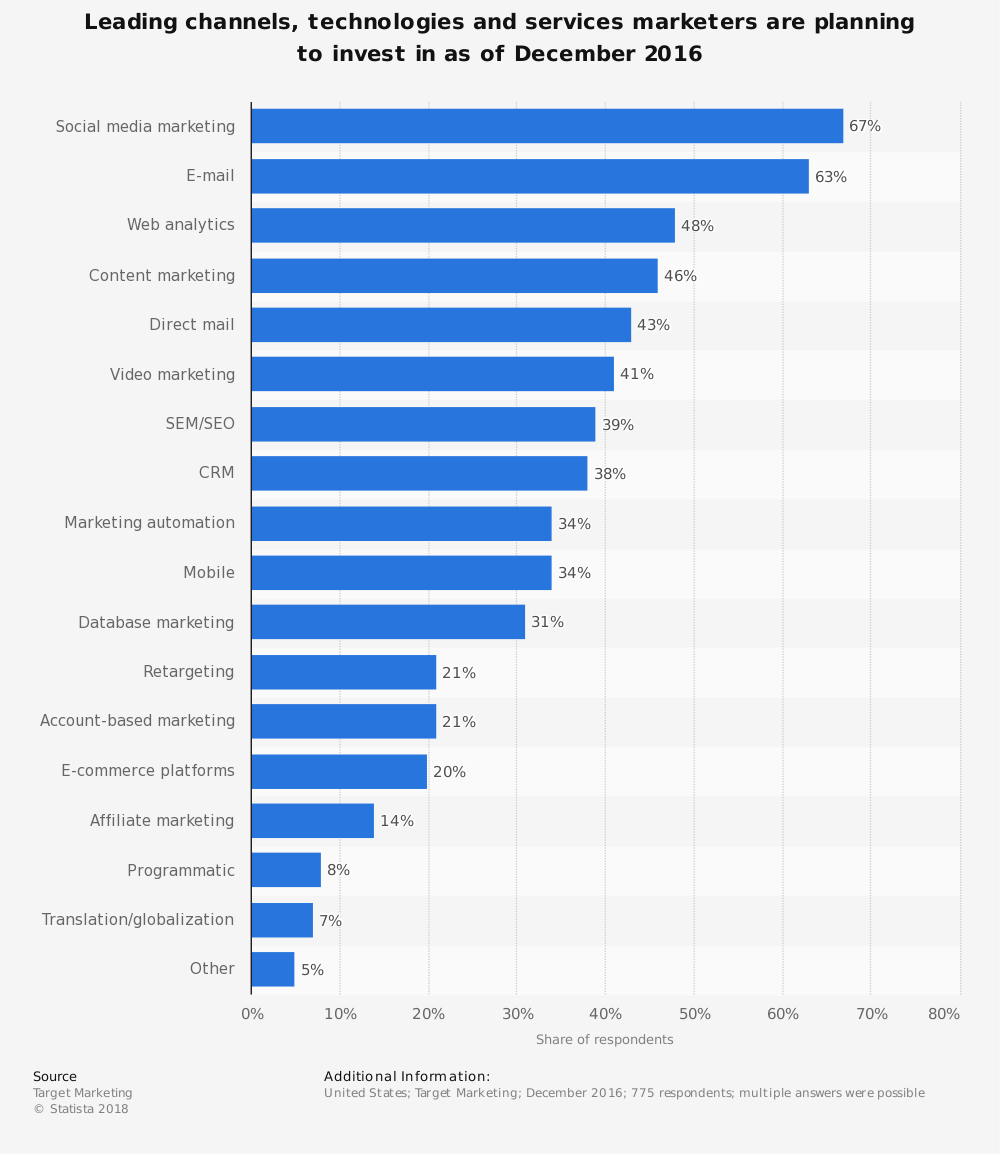 Only 39 percent of companies prioritize SEO which means there is a huge opportunity to get ahead of the market. By the time those competitors hop on the SEO train, it'll take months if not years to catch up to you. Don't hand over free traffic to your competitors by ignoring SEO... invest in SEO to have the competitive advantage in search.
3. Attract more qualified traffic and increase conversion rates
Math states you can't increase conversion rates if you don't have traffic. How do you increase your traffic? Search engine optimization of course. It's estimated that SEO leads have 14.6% close rate. The reason why organic traffic converts better is simple – when users perform a search, they are looking for a solution to a problem. If the page content answers the user's question or potentially solves their problem, then the user is more likely to enter an email or make a purchase.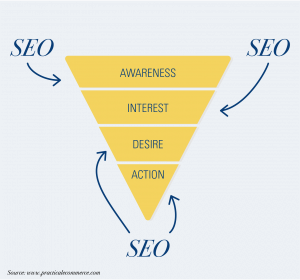 4. Add SEO to diversify your marketing strategy
PPC, or pay-per-click, is the angel child of marketing strategies. However, the PPC market is highly competitive and costs can fluctuate. The only hard costs associated with SEO are staff wages and the cost of SEO tools.
The strategies are different for PPC and SEO. Your PPC campaigns tend to send leads directly to a sales page. This is a narrower audience. Optimizing your site for search engines casts a wider net to reach prospects at different stages of the sales funnel.  By not broadening the reach pool, you're missing out on additional leads that will probably go to a competitor.
5. An effective SEO strategy builds brand visibility, credibility and authority
As mentioned above, the purpose of search engines is to show the best set of matches for a specific user search query. The results on page 1 (excluding ads, answer boxes etc.) are chosen for a reason – the search engine determined this list of resources is the best for the user query. Therefore, if you don't appear on page 1, consumers will doubt your credibility. To reinforce that your company is an expert in a niche, dominate the first page across your industry by publishing quality content that resonates with your audience.
There are no more excuses to why you should not invest in SEO in 2019. We live in a digital age in which almost any question a consumer has starts with a Google search. When it comes to prioritizing your 2019 marketing strategies, think of how you interact on the web.