I'm sure you've heard the phrase, "content is king." That's because content is at the core of the most successful digital marketing campaigns, especially as consumers shift to consuming more information on mobile devices.

According to one study, 70% of consumers prefer to learn about companies through articles instead of advertising. If that doesn't convince you that content marketing should be a major component of your digital marketing strategy, I don't know what will.
What is content marketing?
There is a misconception that content marketing is simply writing blog posts. While blogging is certainly an important tactic, your content should be strategic and created to accomplish your business objectives.

Provided by Content Marketing Institute, content marketing is a "strategic marketing approach focused on creating and distributing valuable, relevant, and consistent content to attract and retain a clearly defined audience — and, ultimately, to drive profitable customer action." To define your audience, look beyond demographic information and discover the needs, interests, and pain points of your customers and prospects.
To have a successful content marketing strategy, your content must be:
Valuable- It's well documented that humans have an attention span of less than a goldfish. Grab their attention and create content that is meaningful and entertaining.
Relevant – Using effective keyword research, create content that your customers are already searching for and that is not outdated.
Ironically, these two characteristics also influence your search engine optimization (SEO) performance- more on that later.
Consistent – I'm not referring to a content schedule, though that does help. The look, feel, tone of voice, and style should be universal across all your content assets: email, social media, blog, etc.
Now that you have a better understanding of what content marketing is, let's move on to why it's important.
Benefits of content marketing
Content marketing is a long-term game plan, but can have the best long-term benefits:
Optimized content improves your SEO efforts
We turn to search engines like Google to find all our information. To win and find new customers, your business needs to appear where they do of most their searching: Google.
Search engines are constantly updating their algorithms to test and improve the quality of results displayed when you search. One recent update that has a lasting impact for content marketing is Google's update to reward and penalize sites based on quality of content.
Creating up-to-date articles and updating existing content will help your site remain at the top of the search results. All this information can be overwhelming to someone who is not familiar with content or SEO. Therefore, I always tell our clients to write like a human, not a robot.
Improve business reputation by becoming a thought leader
Content marketing is your golden opportunity to showcase your talent and expertise in your niche. Using content to support your thought leadership efforts is also a terrific way to differentiate your business from your competitors.
Create such amazing content that your customers – existing and prospective – either visit your site automatically or look for your domain in the search results page.
Increase conversions and drive leads
When we search a topic, we're looking for a solution and/or answer. Create high-quality content that solves that problem. Content helps improve conversions because it allows you to connect with and educate your leads and customers.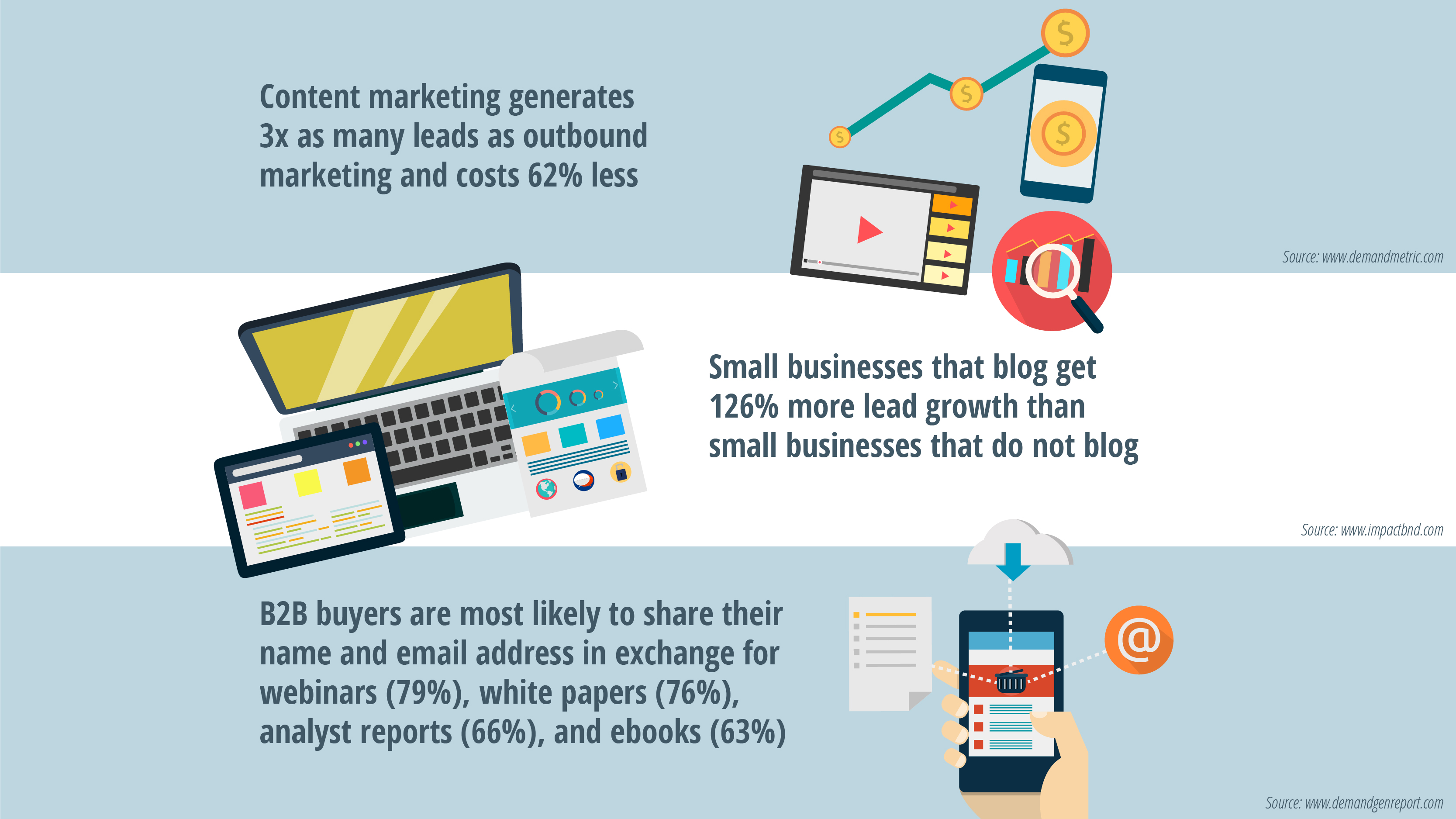 Re-engage your customers post purchase
Your current customers are your biggest advocates. To encourage positive word of mouth and online reviews, create content to enhance the customer experience and increase customer satisfaction.
For example, you can regularly share customer experience or success stories. Not only is this type of content valuable for prospects because it builds brand trust and credibility, but it also builds a relationship with your current customers and shows them you care.
Another example might be a local gardening store creating how-to and tip videos on landscaping after a customer purchases new garden equipment, with the goal of increasing lifetime customer value.
Valuable for re-marketing efforts
You know re-marketing is crucial to your overall business strategy.

But there is one big problem with traditional offer or product explanation remarketing – I'll use my personal experience to illustrate:
When browsing my Facebook news feed, I automatically skip over the traditional offer, discount sponsored ads. Over the years, my brain has been trained to filter out that space in the news feed. This is most likely an effect of being overloaded with ads or boring copy.
Tweaking your offer or creating catchy ad copy typically doesn't result in a conversion, because the problem is usually education. This is where content comes into play for your remarketing strategy. By creating educational content, and content which addresses a pain point for your visitors, you can turn those bounced prospects into conversions.
Supports other digital strategy channels
Your content is the glue that holds all your digital channels together. For every piece of content created, repurpose it into bite-sized content to distribute across your other channels like social media and email.
For example, I might link to this article in our monthly newsletter but turn it into an infographic to share on Facebook and LinkedIn. Not only will the content live forever in link format for search engines, but it's also more likely to be shared on social in image format.

Before diving head first into the shark tank which is content marketing, think about what types of content your customers and perspectives would be most interested in.
LoSasso's not-so-secret list of recommended content marketing resources
Below are a few of our team's favorite resources for remaining current on trends and best practices in the content marketing industry:
An effective content marketing strategy can drive traffic to your website, boost visibility in search results and build authority for a specific topic. It is important to note that content marketing is a long-term strategy; you won't see results immediately. However, the sooner you invest in it, the sooner you'll start seeing results.
Ready to get started with a content marketing strategy or need assistance? Contact us and we'll be happy to lend a helping hand.