Updated 8/16/21
When it comes to fortifying your brand and selling products or services, video adds a huge amount of value to your marketing mix. But with 300 hours of video being uploaded just to YouTube every minute, there's a lot of competition out there. How can you consistently create impactful videos that break through the clutter and strengthen the bond with your audience?
Don't worry, we've got you covered. Whether you're an enterprise or a one-man operation, here are some tips and tools you can start using now when developing and dispersing video content.
Tip #1 – Use video to educate and connect
Today's audience is hungry for knowledge, but it has to be interesting and relevant. Think of Apple campaigns that educate on product benefits like camera resolution by putting consumer generated photography at the forefront. Or, how TedTalks turned keynote speakers into engaging and easily consumable content.
For brands looking to educate, tutorials and how-to videos can be super beneficial. Think about what your audience wants to know, what kind of content would be effective and how you can frame it to be unique. This can take your content to a whole new level because you're not just trying to make content, you're trying to connect with your audience.
Tip #2 – Make people feel
Chances are, if you can think of a good bit of content that you've consumed, it's because it made you feel something. From emotion to entertainment, hitting the right chords can be challenging. Think of successful campaigns like The Old Spice commercials or Dove Real Beauty campaign. Whether they we're using humor or honesty, they made you feel something worth remembering.
Tip #3 – Make your video content creation process repeatable
When developing your creative process for video making, do things that are repeatable and only raise the bar gradually. You want the idea to be creating a lot of content with regularity. When you know the drill, it's a lot easier to crank out quality videos quickly, and develop a schedule.
Tip #4 – Use VidIQ to boost traffic and engagement
Get more bang for your buck with organic reach. Information like a video's title matters a lot. As a tactic in YouTube SEO, using keywords applicable to your video's subject matter in your title will allow it to show up in users' recommended videos feed. One cool tool that can help you maximize your organic reach via video is VidIQ, a Google Chrome extension. VidIQ does this by allowing you to research and choose keywords that also coincide with what your audience is searching for.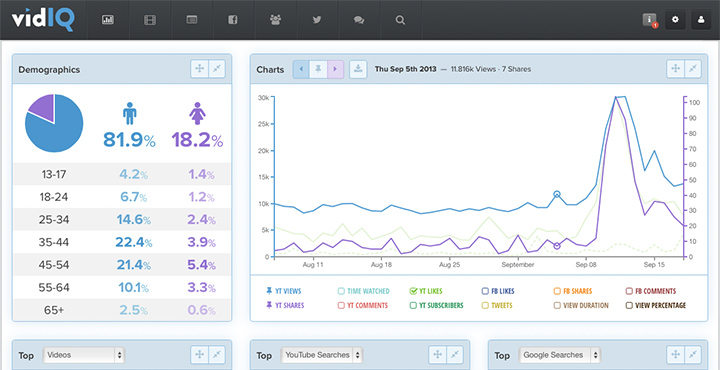 Tip #5 – Create a mailing list
To connect better with subscribers and keep track of them, create a mailing list. This will allow you to have a more personalized and sustainable connection with your base. And they'll continue to come back to—and share—your content.
Bonus tips:
Tip #6 – Take social for a test drive
Platforms like Instagram and TikTok are also driving the demand for brands to produce engaging video content. IGTV brings long-form video (up to one hour) opportunities to a space where many consumers are quickly scrolling and digesting content. If you're not familiar with IGTV, it bridges the immediacy of IG stories or reels with a video-centric environment like YouTube. And the vertical format helps videos fill the boundaries of your screen without having to change the orientation, creating a more seamless and immersive experience for your audience.
Another channel that has taken phones by storm around the world is TikTok, another video-centric channel. While TikTok may be newer for many marketers, it has billions of users—primarily Gen Z and Millennials—to reach and is full of possibilities if used correctly.
Tip #7 – Take advantage of mobile video editing
Adobe's Premiere Rush is a cross-platform software geared toward mobile video editing, taking many of the elements and techniques from their professional software Premiere. With new video channels like IGTV that encourage us to raise the production values of online video, Adobe Rush gives us more options than ever to create and edit video on-the-go, eliminating the need for a full editing suite.
In today's landscape, creating a video or video series to market your products and services is a no-brainer. It's an effective way to connect and build a relationship with your consumers, communicate your company's core message, and share new products and services—and these tips and tools can help make it much, much easier!