What's your mood?
Published November 29, 2010 4:37 pm by Jada Cash
Categories: Branding, Content marketing, Design and visual trends
Finding the right stock photos, videos and music to express a given concept can be exceedingly tedious. Often, the search functions of stock content sites just don't cut it, or it's difficult to put what you're looking for into words. Other times, the sheer volume of search results is crippling.
Moodstream™, a new tool from Getty may help alleviate these issues—or at least offer some good inspiration for your next concepting session. Communication Arts describes Moodstream as a "random visual generator that syncs imagery with over 50,000 songs licensed by Getty."
The tool streams photos, illustrations and videos together with songs, all of which match the mood your designated mood. Sliders on the site's dashboard let you set the mood somewhere between happy and sad; calm and lively; humorous and serious; nostalgic and contemporary; and warm and cold. Other settings allow you to specify even further, and control the speed and nature of the image transitions. The refresh button provides a new set of imagery and music. You can even save the imagery and music you like to your "mood board" with the click of a mouse.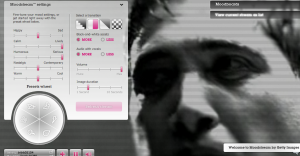 While something tells me this isn't the ideal tool for finding stock related to industrial metalworking (an elusive stock-photo search topic we here at LoSasso know all too well), it's still pretty fun to play around with. Listening to the music while watching the images float by at a controlled speed should definitely get the creative juices flowing.
What tricks do you have for finding stock content? Any online tools that inspire your creative brainstorming sessions? We'd love to hear about them in the comments section.