WOMMFest 2013
Published February 22, 2013 4:43 pm by LoSasso
Categories: LoSasso news, The business of marketing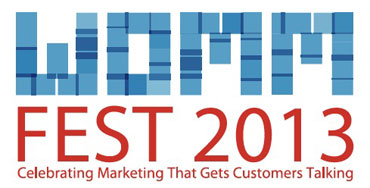 This past Tuesday, Adam Miller (Online Marketing Intern) and myself had the opportunity to attend a one day conference on word of mouth marketing put on by WOMMA, or the Word of Mouth Marketing Association.
The conference celebrated word of mouth marketing and gave participants a chance to network and share with one another about how word of mouth marketing has helped grow their business and create real life connections with customers.
Speakers included Kristian Bush of the band Sugarland, C.C. Chapman, author of "Content Rules," and Cartoonist and Chief Creative Officer of Gapingvoid Hugh MacLeod. All had incredible and unique insights on how they tell stories using marketing.
Bush told a story about how he used word of mouth to generate conversation for his band. After successfully pulling off a stunt where he put two tickets underneath a table of a coffee shop and told his fans to look for them, Bush pulled off a similar stunt at Walmart.
The idea was wildly popular and made an authentic connection between Walmart and Sugarland. Bush said creating the right story is crucial to his brand's success.
"Music, by definition, is a word of mouth experience," Bush said.
In addition to great speakers, we met some of the WOMMFest participants and learned best practices on how they get people talking. The event gave us plenty of ideas to take back here at LoSasso to implement with some of our clients.
WOMMA wrote up an excellent recap using tweets from the conference to help tell the story from Tuesday. Make sure to check it out.
We sure learned a lot, so make sure you head over to WOMMA and some of the resources and upcoming events they have to offer.