Use of Social Media Outlets Are Changing Crisis Communications
Published May 28, 2009 2:11 am by LoSasso
Categories: The business of marketing
Consumer-driven media such as blogs, Facebook and Twitter have completely changed the way information is passed. The days where people rely solely on professional news outlets and government agencies are long gone.
According to an article on University of Texas at Austin's website, this unregulated flow of information can quickly lead to misinformation if industry professionals do not react quickly in a crisis situation.
"Thanks to the Internet and social media applications, such as blogs, Facebook and Twitter, the public is able to seek and share information quickly during a health or safety crisis," said Keri Stephens, assistant professor of communications studies at The University of Texas at Austin. "If an organization involved in the crisis doesn't provide information quickly and clearly, the public will turn to third-party sources to fill the vacuum—and that information may not be accurate."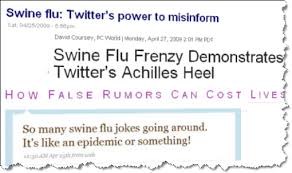 One recent example of crisis communication is the break out of swine flu. While the Centers for Disease Control and Prevention did a good job communicating with the public, there were still cases of misinformation and panic on social media sites.
According to Stephens, there were tweets ranging from "Don't eat pork" to "Could it be germ warfare." Even today, I saw a post claiming that basil could prevent you from getting swine flu.
So, how do communications professionals work to prevent misinformation? To start with, Stephens encourages communications professionals to redirect their messages to target the general population as well as the media.
Now that individuals are linking their blogs and social media sites to press releases, they should be worded in a way that non-professionals can easily understand and digest.
Another practice that can help the public to better understand crisis communications is to optimize press releases by linking to in-depth explanations of technical and scientific information, this will ensure that any confusing information is thoroughly explained.
As crisis communication travels faster and faster on the web, it is up to organizations to provide quality information in a timely manner.