True Grit: Innovative Marketing in Struggling Industry
Published March 2, 2011 9:41 am by LoSasso
Categories: Branding, The business of marketing
It sounds counter-intuitive in the marketing world but when coupled with innovative messaging, sticking to your guns produces advertising that connects.  No industry has embraced this more visibly than the Detroit auto industry.  The 2011 Super Bowl is a great indicator of the swift turn-around the industry has made with its "Imported from Detroit" ads.
Government bailouts are not a distant memory, yet already Ford is reporting double-digit percentage earnings and revamping the River Rouge.  Ford was even named by Advertising Age Magazine as 2010's "Marketer of the Year".  Both Ford and Chrysler have been leaning heavily on the history of this great American industrial city and manufacturing honest presentations of it.  Shining up the heart of the Rust Belt can only mean positive re-invigoration of its arms and legs (think Cleveland, Pittsburgh,Toledo and Buffalo) if they followed Detroit's example.  New brand managers and Team Detroit are behind the scenes of this surge in interest; generating ads that tap into American nostalgia for Motown while presenting it in our current era.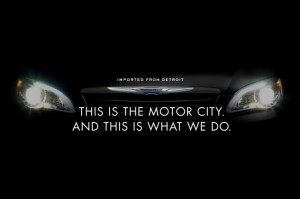 In the season and spirit of true grit, Detroit is getting down and dirty to its base line – that this is a city built by laboring men and women in its auto plants and they are still there generations later.  The message is clear, "This is the Motor City. And this is what we do."  This is not a blanket model for every marketing scenario but for an industry that resisted this messaging for so long, it's refreshing to see that the pioneering spirit of sticking to your guns still holds fast and pays off.