Trade Shows Offer Modern Day Silk Road
Published April 4, 2011 9:19 am by LoSasso
Categories: Audience insights, The business of marketing
In spite of — or perhaps due to — our digital age, trade shows have become essential to a successful business.  As we constantly forget to unplug from our mobile devices, tablets and computers, there's no better opportunity to connect with customers and others in your field. Trade shows are the modern day silk road for information, product and company visibility and a chance for collaboration and exchange of ideas.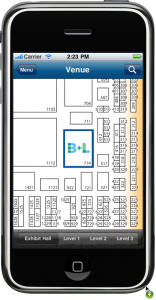 A veritable bazaar of companies, trade shows offer a common ground for employees and customers to intermingle. B2B Magazine reports that "trade show spending will reach $15.63 billion in 2014, which will make it larger than the predicted combined total of e-media spending ($8.03 billion) and print ad spending ($6.36 billion)" (B2B 3.14.11). Can't turn up your nose at those numbers.
The greater exposure afforded by trade shows falls in step with the back-to-the-basics of marketing; fostering a continued relationship with your customer base and increasing your own knowledge in your field.  It probably doesn't hurt to take a mental vacation from the amount of digital information we digest daily and interface with an actual human…even if we end up using mobile apps to navigate the booths, tweeting at the shows and blogging about it later.