Ten tips for a stellar resume
Published April 29, 2015 11:36 am by LoSasso
Categories: LoSasso fun, The business of marketing
Whether you're a digital dynamo, client service standout or a creative genius, you won't get the gig if your resume falls short. Follow these tips to make a marketing CV that stands above the rest.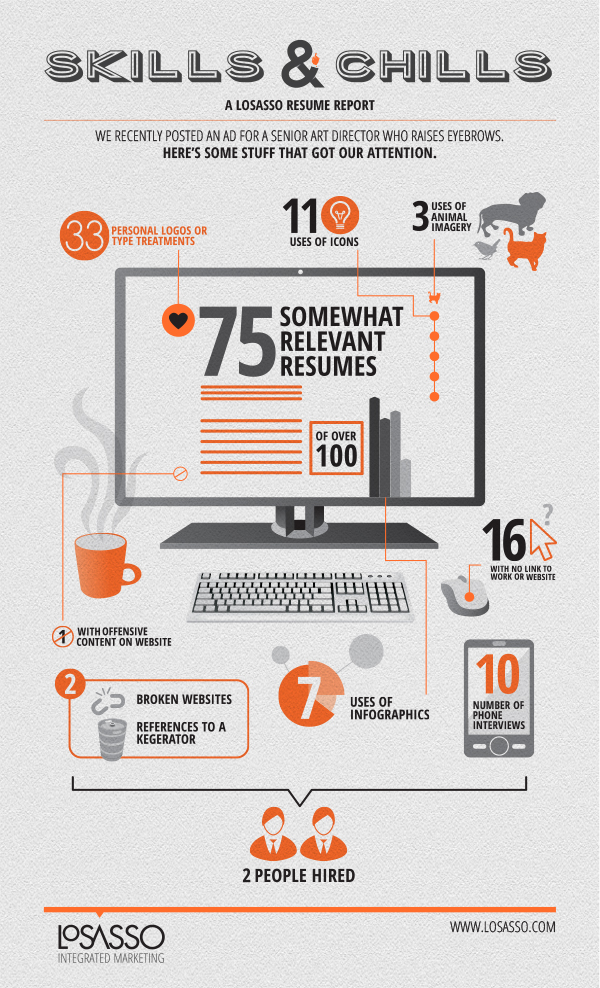 1. Keep it Clean – We're not talking foul language here (though swearing is highly discouraged for f*#king obvious reasons). A neat, well-organized page always wins the day. If the layout is a mess, it says you probably are too.
2. Details Matter – Be consistent with headings, spacing, fonts, etc. Check your spelling. And remember, good grammar ain't nothin' to shun neither.
3. State Your Objective – Make a strong customized statement that aligns with the job title and is unique to your strengths and ambitions. Avoid generic phrases pulled from online resume builders.
4. Stay Relevant – Unless you are applying for an entry-level position, skip the experience at Subway or Forever 21.
5. Show the Flow – Provide a logical progression of career development. Without a clear path or thread, your journey appears misguided or without purpose.
6. Keep Time – Always include dates of employment. Include months if you changed jobs before your first anniversary.
7. Fill the Gaps – Avoid mysterious holes between employers. It's better to acknowledge a few months off, or longer, due to layoff, relocation, etc. than raise eyebrows over missing time.
8. Share Responsibilities and Achievements – Offer a brief description of your role and how you wowed your boss.
9. Limit Page Count – Even if you are a highly valued senior superstar, keep it to two pages by listing only the last 10 years of work history. And always be succinct.
10. Get Personal – Mention interests outside of work. It's okay if a hiring manager remembers you as the cyclist, bass player or food blogger in addition to your stellar career path.
– Martha Porter Fiszer, Creative Director