September's Social Media Breakfast Chicago
Published October 4, 2010 10:16 am by LoSasso
Categories: LoSasso news, Social media, The business of marketing
We love the passion we see in the interactive advertising industry. The field is filled with dedicated, intelligent, positive thinking and we always enjoy the chance to interact with our peers. Social Media Breakfast Chicago, the local chapter of the national social organization, gathered last Tuesday at Event Architects in downtown Chicago and a few members of our team were lucky enough to attend.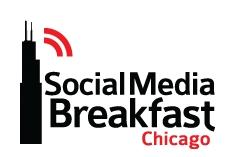 Social Media Breakfast Chicago, founded in 2009 by Craig Bagdon, Scott Bishop and Mike Pilarz, shatters the "Panel vs. Audience" model. Education and awareness about digital topics come from in-depth discussion and conversation.  Each breakfast – this was the seventh held in Chicago – opens with a 30 minute networking and breakfast gathering of all participants. Then the group breaks off into smaller clusters of 5-10 people to participate in discussions led by moderators on topics chosen before the event.  Seats for each topic are available through the SMBChicago eventbrite page. Tickets are free for everyone but are limited in order to promote friendly discussion and debate. The Breakfasts have become so popular, tickets typically sell out in under 15 minutes!
Measuring Community Engagement
There were five topics at last week's Breakfast and I was lucky enough to snag a seat at Amy Le's table to discuss the true value of community engagement at the start up level. Amy is the social media manager at GrubHub.com and opened the lively discussion by explaining the nature of social media engagement: "With each follower or fan, you must emphasize quality over quantity". In this new era of digital marketing, it's important to look beyond the major categories like Facebook Fans or Twitter Followers and understand the value of your community engagement.
Here are some metrics that Amy and her team record (in an Excel spreadsheet) at GrubHub as they strive to turn followers into Brand Evangelists:
Outbound Tweets per week
Followers Added or Lost per week
Retweets by Followers
Reason for ReTweet
Click throughs
Customer Service Tweets
Mentions of Brand name
Conversions & Direct Sales
By collecting this data over time, Amy is able to deliver well-founded feedback to the marketing team which is then turned into effective and targeted marketing campaigns (ROI anyone?). This analysis of social media engagement also helps Amy establish branding and linkbuilding through the GrubHub blog.
Strategy First
Throughout the discussion, Amy made sure to emphasize the importance of strategy in social media. Each engagement – whether on the blog, Twitter, Facebook or email – is founded in a comprehensive social media marketing strategy. Here are a few strategic points to keep in mind before starting a social media campaign:
Consistent tone

: Is slang appropriate? Or is a professional approach more in line with your goals?

Teamwork

: How will you keep your team on the same page and working together? Social media departments have grown beyond one person outfits. How will your company maintain a consistent outreach?

Measurement

: How often will you record data? Is a tool like Radian 6 necessary or is an Excel spreadsheet all you need?

Tools

: There are hundreds of free tools to help you manage your social media accounts.

Platform

: A Facebook feed isn't right for every company. Likewise, Twitter won't work 100% of the time either. Is FourSquare right for your business? Save time and money by choosing the right social media platform
Discuss Amongst Yourselves
All this knowledge at just one table! The other tables discussed the following topics:
Embracing "The Shift" – Why Social Platforms Don't Matter
Social Media's Role in Event Marketing
Google Instant Impact: Is SEO Dead or More Important than Ever?
Mobile Marketing: Social Gifting and Social Buying The Newest Form of Social Marketing
For more information on Social Media Breakfast Chicago or to find the chapter in your city, please visit the SMB Cities page. Co-Founder Mike Pilarz has indicated that the next event is planned for November. Hope to see you then!
GrubHub Social Media Presence: