The Next Level of Social Media Advertising
Published September 29, 2010 11:43 am by LoSasso
Categories: Social media, The business of marketing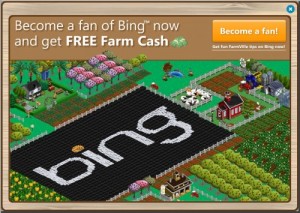 The business of social media has been rapidly evolving to create bigger and better opportunities for businesses to advertise on social media sites across the web.  These advertising opportunities mainly revolve around things like promoted Tweets and Facebook ads, but recently another way to integrate advertising into the social media landscape has begun to emerge – placing advertisements directly into popular social games such as FarmVille or Sorority Life on Facebook.  With the growing popularity of social games (Neilson recently released stats showing that online gaming has overtaken e-mail as the number two way Americans spend their time online) it is a logical step for advertisers to gain increased face time with their target audiences.
What It Is
The concept of in-game advertising gives advertisers the opportunity to connect with customers in a unique way, by helping them to get ahead in the game.  Social games such as FarmVille are based on players acquiring virtual goods – tipically these goods are not free to the player, costing them virtual currency (in-game currency is bought with real-world money).  Advertisers can partner with these social games, offering players virtual currency or virtual goods as incentives when they make a real-world purchase with the advertiser, or they can even reward a player for simply  choosing to  "Like" or become a fan of the brand.  For example, if a player buys $20 worth of merchandise at an advertiser's store, they might receive $10 in virtual currency to use in-game, etc.
Ways to Advertise
There are multiple ways to advertise with-in social games – ranging from simply posting on community bulletin boards, to branding in-game merchandise.  In-game ad placements such as virtual billboards or banners are another way to reach customers and are growing in popularity for advertisers because of their high ROI potential.  A more interactive way to advertise in-game is to actually create a branded game of your own.  "This strategy not only gives consumers a fun and memorable way to engage with your brand, but it also enables you to create and sell your own branded virtual goods," according to an article on mashable.com.
While still a fairly new tactic, in-game advertising is a unique way to engage with customers and has the potential to be a useful and successful strategy if it is targeted and executed correctly.