My first three weeks: observations from a newcomer to the agency world
Published January 30, 2015 5:35 pm by Sean Griffin
Categories: LoSasso fun, The business of marketing
Rough boring spindle speed varies based on composite densi… wait, what was that? Five-axis machining offers substantial efficie…did you hear something? This is the only additive manufacturing machine that combines milling and laser sinte…there it is again. You must have heard it that time!
In my first three weeks at LoSasso—also my first three weeks working at an agency—I've had a crash course on metalworking and our clients who trust us to help them gain market share in the industry. Amidst all the reading, studying and doing my best to write about a relatively new industry (for me), there have been ideas flying around all over the old residential building LoSasso calls home in the Ravenswood neighborhood of Chicago.
I've been in marketing departments from Florida to Chicago working to promote everything from financial events to plumbers and IT server racks. Never have I been in a place where so many smart people explore ideas, and build them up or criticize them so constructively. Concepts are thrown against the wall (literally, we write on the walls around here) at a staggering rate. Some stick, some don't, but the best, most effective ideas for the client always seem to survive the wet cloth.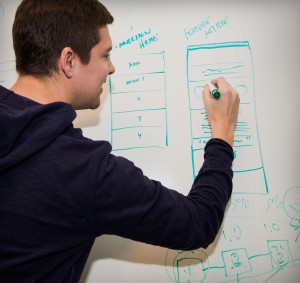 Still more familiar with the outside world, my initial feeling is that we aren't as beholden to thought and processes that continue just because 'it's the way they've always been done.' We aren't hindered by overseas interests. Standard company-issue hardware and software don't limit us. And there's always someone down the hall that can design, program, write or imagine just about anything. Being an integrated agency challenges teams to work closely together, rather than working in silos. We are empowered to come up with inventive ways to tackle challenges by combining the array of technologies, skills and channels at our disposal that are most impactful for clients.
At the risk of this post popping up in online searches for "types of cheese": for the first time in my marketing career, it seems like anything is possible.
*I'd be remiss if I didn't touch on how fun this place is. It would take a whole other blog post to do the energy, personality and creativity here justice. Instead, I'll direct you to the recent holiday video LoSasso produced before I clocked in. It was a useful and convincing glimpse as I neared my decision to take the plunge in to the agency world.
– Sean Griffin, PR Manager/Technical Writer