Miracle Whip Marketing: What You Can Learn
Published August 9, 2011 11:02 am by Jessica Schanta
Categories: Branding, The business of marketing
If you haven't seen at least one of Miracle Whip's recent commercials, it might be time to Take a Side. With the Dow down (again) and the news about Kraft Foods making the split into two companies,  Miracle Whip's strategic focus on consumer relations has also stirred up some controversial buzz. So what's all the hype about?
Love to Hate: Marketing for Everyone
The great "love it" or "hate it" debate has encouraged lovers and haters of the Mayo rival to share their true feelings about the product. Miracle Whip even has a "not for every relationship" video contest. Let Miracle Whip know how you and your significant other feel about the product and you could win $25,000 for your marriage…or divorce. For marketers, honesty is increasingly important even if you cannot fit the consumer's needs.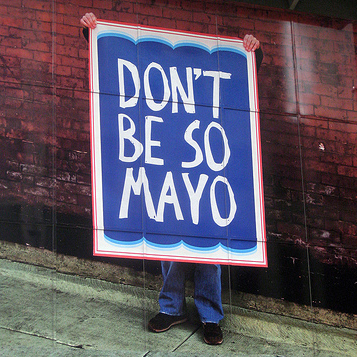 Miracle Whip's debate has people all over the U.S. discussing the positives and negatives of the pseudo-mayo via social media. Social media whether we like it or not, can make or break a brand. According to the Facebook page, the mission of the debate is this: "Some people love us. Some people hate us. And that's cool. What's not cool is people who've never tried us or don't even know who we are. So we're setting out to change that. If you've never given us a go, check out our YouTube channel for a free sample and then tell us what you think."
Meaningful and Commercial Relationships
Marketers connect with their customers on a personal level when they engage in casual conversation and encourage product feedback. Miracle Whip creates more meaningful relationships with their consumers because they go beyond traditional marketing. Their advertisements tell a story, about real things and real people. When people have experiences with a product, they relate to others who have gone through similar situations.
Power of Influence
Miracle Whip admits that they are "not for everyone."  The message is targeted to their desired audience as well as their competitor's audience.  Miracle Whip knows that some people like Mayo better, but they use that to their competitive advantage. Not everyone is going to love what you have to offer, but if you market yourself to both the lovers and the haters – the power of influence may take its course.
It doesn't matter what side you are taking, you are still talking about Miracle Whip. And that my friends, is intelligent advertising.
(And for the record, I do not like Miracle Whip.)