Metalworking Lo Down part 4: This is how professionals get their industry information
Published September 9, 2015 8:38 pm by Sean Griffin
Categories: Audience insights, Featured posts, The business of marketing
This is part 4 of our Metalworking Lo Down series. Visit the main blog page to read parts 1, 2, and 3.
We're going marketing-heavy with the last two Metalworking Lo Downs. After all, it's what we do best. For some unique insight, we'll again turn to the most recent Metalworking Trends Survey that revealed the opinions and behaviors of 635 metalworking professionals from across North America, including 386 classified as management.
In this Lo Down, we'll hone in on a question that addresses a topic near and dear to a marketer's heart: where do people turn for information? Analyzing statistics related to this makes a marketer giddy; they're also valuable for suppliers and distributors, as they can help guide the focus marketing energy and resources. If you fall in to either of those categories, hopefully my two cents will help improve your marketing efforts. Let's dig in…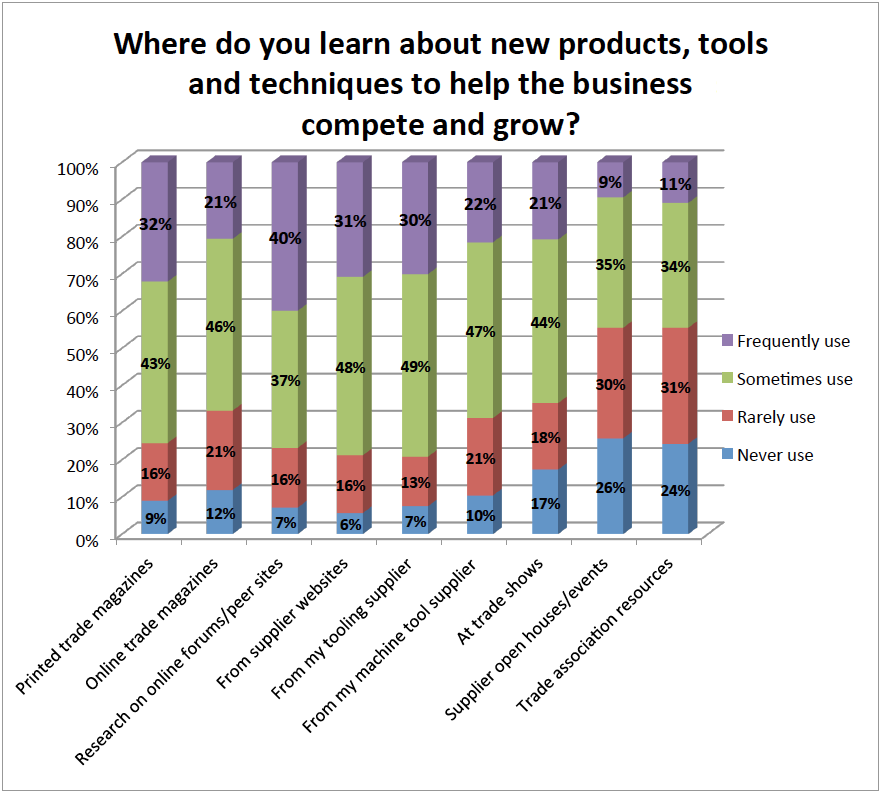 A Massive, Engaged Audience Awaits
Like Facebook, Twitter and other forms of social media, online forums are invaluable resources, especially in niche communities. Don't believe me? In its most recent monthly traffic statistics, metalworking-based forum PracticalMachinist.com notched 1.5 million visits from 1.1 unique visitors. You read that right!
Being present on these sites is a must. It's like being able to eavesdrop on the marketplace. You can see how people are using your product or how they perceive it. You may see things said about your product that are unpleasant; in fact you probably will. But isn't it better to have that insight than not?
Of course, there's the opportunity to do more than just observe. As a representative of your company, interjecting in conversations on these forums is a delicate proposition, however. Don't feel compelled to do it at every mention of your brand or product. But if at any point you do, first and foremost, do not be combative; it gets you nowhere and all while a captive audience reads along.
Rather, speak in fact, not opinion. Try to help with an issue by answering questions, offering solutions or directing them to a resource or contact that can be of more help. And don't be afraid to take a discussion 'offline.' It's a much more controlled environment where more can get accomplished.
This Indicates Something Else Very Useful
I also see this result as a testament to the power of the third-party endorsement. People want unfiltered, real-life application evidence directly from folks in their same shoes. Flip through any prominent trade publication (also very popular resources according to the results above), you'll find several of these kinds of stories every month. And if you don't think editors know what their readers want, think again.
That's why I suggest finding customers, on forums and elsewhere, that have had positive experiences with your product. It will likely take a little work, but digging up those stories and sharing them—with permission of course—is very powerful.
Give real incentives for people to tell you their stories in the form of discounts or free stuff. Then, make it easy. Create a form or survey that asks them what they were doing before, how they found your solution and how much better life is now.
– Sean Griffin, PR Manager/Technical Writer