Metalworking Lo Down part 3: How companies are tooling up their new machines
Published July 2, 2015 6:40 pm by Sean Griffin
Categories: Audience insights, Featured posts, LoSasso news, Marketing research, The business of marketing
This is part 3 of our Metalworking Lo Down series. Visit the main blog page to read parts 1 and 2.
Tools are small; machines are big. Lower-end tools cost less than $100; less expensive modern machine tools can still cost in the hundreds of thousands. It's no wonder that tooling oftentimes is the most overlooked piece of a new machine center. But, having worked for a long time with a premium tooling supplier, we know that investment in premium tooling pays off big time in the long run—and we wanted to understand how shops tool up a new machine at the time of purchase. Here's what we found out.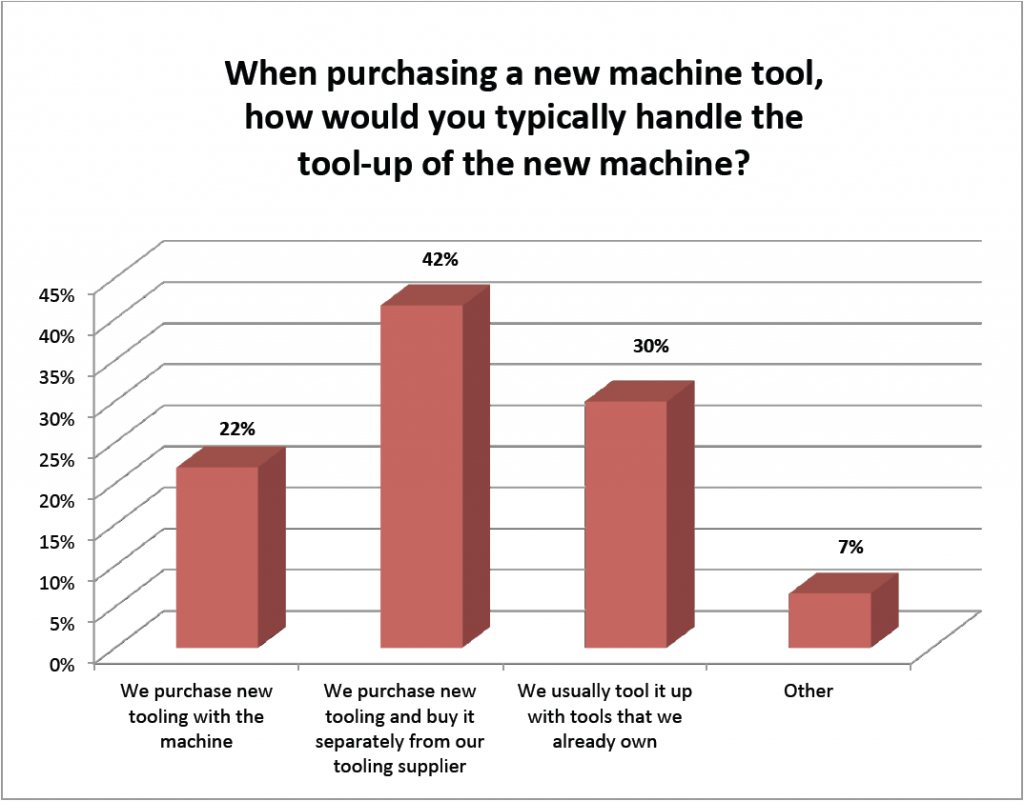 I'll reiterate—as someone familiar with the distinct benefits of high-end tooling and the countless case studies and data backing it up—it's a little hard to believe that more than 50 percent of respondents either just go with what comes with the machine or use existing tooling.
In the marketing biz, we call that "opportunity," but more on that a little later.
We wanted to know more. And this deeper dive into the above result—response broken down by company size—was indeed revealing.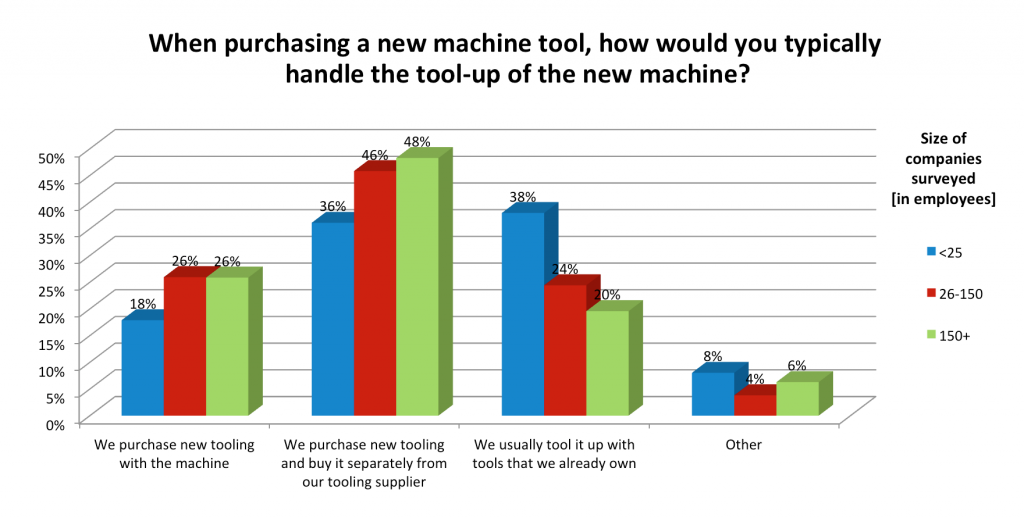 It suggests that the large, and I'll assume more sophisticated companies, purchase new tooling specifically for the machine and the types of work they do with the help of a tooling partner at a notably higher rate than the smaller shops.
This brings me back to that opportunity I mentioned earlier: there is a better way for more than 50 percent of machine tool purchasers to equip their machines, and seeing that more successful companies take that route supports that sentiment. Tooling suppliers need to find a way to reach those folks who aren't tooling up with their expertise and make the better way clear to them.
The message: Spend a little more now, include the right tooling in your machine financing and reap bigger, more lasting benefits.
The how: Any sales person worth their salt knows whether or not a customer is considering making a capital investment in something like a machine tool. Get involved with that decision-making process early. Be a resource, a sounding board. The marketing team needs to arm the sales person with an arsenal of materials—stories, studies, comparative data—targeting the decision-maker's mindset at that time with the message above.
See what others are saying and join the discussion about these and other survey results on the Practical Machinist web forum.
– Sean Griffin, PR Manager/Technical Writer